All About Becky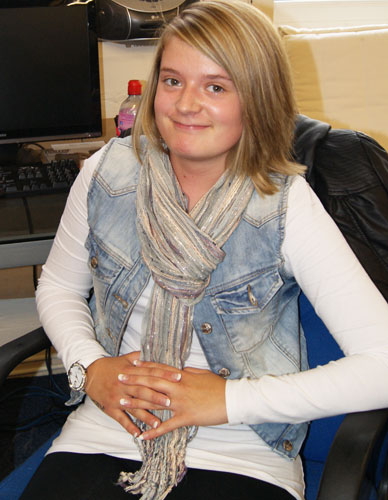 Becky
Hi, I'm Becky

I deal with returns and the adding of new products at UK Tights, UK Swimwear and UK Lingerie. I left for 2 years but now I'm glad to be back, I really enjoy working here and have a good laugh with my colleagues most of the time.

I'm 26 years old and I work in the office but occasionally help out in the warehouse from time to time. They call me the Beconator as they say I'm efficient and make sure everything is in its place!

For fun I like to play ladies football and can be found most weekends knocking a ball about with my mates. I also enjoy spending time at the gym, trying to keep my fitness up. As a person that has been brought up with a large and close family, it's always nice to have a big family barbeque with good food, good company and a couple of drinks.

I have my likes and dislikes just like everyone else does and two of my likes are mint choc chip ice cream and sitting in the garden and enjoying the sunshine, when we get some!

I'm a lover of all genres of music from pop and disco to the good old R&B and soul music. I don't have one favourite artist as I like music from many different people. I'm always looking to add to my playlists, whether it be new or old.

The things that annoy me a bit are when people step out in front of you and then walk slowly whilst blocking your way! I guess most people I know would say I'm impatient.

When I get some free time, I also enjoy cooking. I have been told that I make an amazing lasagne. I can say that I'm not the best at baking, but practice makes perfect, well nearly perfect.

I've got three sisters, the eldest being 29, that's Sammy. Then there's Sophie at 23 and Alice who is 11 years old. We're animal lovers and have three dogs and a cat.

Thanks for reading and I hope you enjoy shopping at our online store.