Wolford Comfort collection, your best new buy this month
13 February 2020
Calling to the Wolford tribe! Fans of Wolford all around the globe, it's time for you to read about Wolford's latest development: a super comfortable waistband, now available for two of our favourite styles. We're talking about the new Wolford Comfort collection. Keep reading to find out what two absolute best-sellers of UK Tights are part of Wolford's new hosiery range.
Just arrived: Wolford Satin Touch 20 Comfort Tights
Our Wolford Satin Touch range has always been our most popular Wolford style (here you can see all our Wolford hosiery, ordered by popularity, in case you are curious about this). We have had these in a 3×2 promo pack that many of you loved. Wolford wanted to revamp their elegant shimmer tights with a new comfort waistband. The soft waistband of the new Wolford Satin Touch 20 Comfort Tights feature the Wolford logo and adapts to your waist area. It does stay in place and feels as soft as always. A little-big improvement that you'll love.
If you prefer the usual Satin 20 Touch tights, without the comfy waistband, we still have a few pairs left. Hurry up and get your last pairs here.
Wolford Velvet De Luxe 66 Comfort Tights
The new Wolford Velvet De Luxe 66 Comfort Tights also go comfortable this season with the addition of a new comfort waistband: thicker and wider than before, it'll make these opaque tights your favourite pair for winter. If you have never tried these before, we 100% recommend them. If you are into matt appearance, these are totally for you. You'll also be surprised how soft they feel when you touch them and, especially, how soft they feel against your skin. They are worth every penny!
If you care for something new…
Those two above are Wolford's new innovations, but that's not all. If you love the Woflrod Comfort range, you'll love these other two amazing styles below.
Wolford Comfort Cut 40 Opaque Tights
When Wolford introduced the Wolford Comfort Cut 40 tights, everyone went crazy. They are one of Wolford's most exclusive products of its essential range. We spoke about these tights in this post about new innovation in the legwear world.
The reason why we share them once more is that we've heard from a very-kind customer that these are the perfect tights for those who suffer from abdominal bloating, as you get the luxury of Wolford with a customised waistband.
Wolford also recommends these for the first stages of pregnancy, as you can adapt them as your baby bump grows.
Wolford Pure Shimmer 40 Concealer Tights
"Invisible and exceedingly soft tights with a light sheen".
This is how Wolford defines one of their most recent releases: Wolford Pure Shimmer 40 Concealer Tights.
Many of you have told us that you have lost it for these 40 denier tights. They are light shimmer and natural-looking tights. It's precisely this natural effect and the thicker denier what gives them its signature concealing effect.
These Wolford tights are ideal for those who love the look of sheer tights but want to wear something thicker. Or, you know, if you don't want to shave your legs that day but you don't want others to notice. These here are just as good as our Wolford Neon 40 tights, without the ultra glossy look of the Neon 40 tights.
So, what do you think? Are you giving the Wolford Comfort collection a try?
You May Also Like
6 August 2009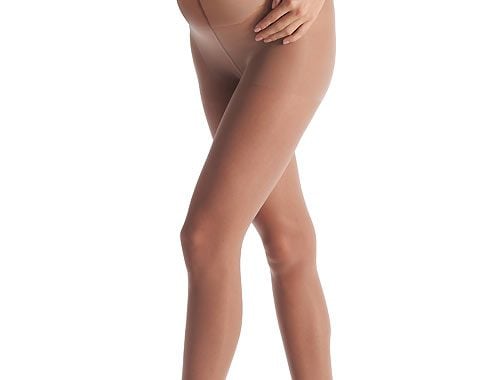 18 September 2020
16 August 2011