What are the Advantages of Wearing a Bodysuit with built in Bra?
24 May 2018
Bodysuits are living their moment. They are the top trend in lingerie these days. We love this one piece lingerie style celebrities can't stop wearing. One of the first questions you ask yourself when buying a new bodysuit is: should I buy a bodysuit with built in bra? Should I go for an underwired bodysuit? What are the advantages of wearing a bodysuit with built in bra?
We'll drive you through the advantages and the disadvantages of wearing a bodysuit with built in bra so that you can decide what's the best bodysuit for you.
Advantages of wearing a bodysuit with built in bra:
The best thing about wearing bodysuits is the fact that bodysuits seem to hold your shape and feel like a smooth layer over your skin.
No more 'muffin tops', thank you so much.
How much do you hate it when you have to pull down your vest or cami over and over? You won't have that issue with a bodysuit.
Some bodysuits even have a shaping effect! Wolford's forming effect body, for instance, smooths your waist and your tummy while shaping your bust. As it comes with integrated cups, it's the perfect shaping bodysuit with built in bra.
Do I really need a bodysuit with built in bra?
That depends on the support you're looking after. Bodysuits with built in bras offer additional support, especially when these bodysuits have underwired cups, like all the styles we feature in this post.
The fact that there's no need for a bra is the greatest advantage, particularly for fuller bust women, who most benefit from the additional support an underwired bodysuit provides.
Inside or outside?
OK, we have established that bodysuits are the hit of the season. Bodysuits obviously look absolutely seductive and very feminine. That's something we can all agree on.
Wearing bodysuits as underwear is something every woman should ever experience; it makes you feel sexy and gorgeous!
The also look very stylish when worn outside. If you dare, you can wear a bodysuit as a top, with a pair of jeans, some trousers, shorts or a skirt. Bodysuits are actually a really practical garment.
We love the look of lace bodysuits under see-through shirts or under a kimono. How stylish this is! If you are one of those people who always feel cold in winter, wearing a seamless bodysuit can help you layer up and stay cosy. This Maison Lejaby smooth bodysuit is ideal to be worn as a second layer.
On the other side…
On the other hand, there are two disadvantages of wearing bodysuits. The first and most obvious is the inconvenience of having to remove your bodysuit when going to the loo. Depending on the style, this moment would be more or less tedious. Unfortunately, a similar situation occurs when you wear other one-piece styles, such as playsuits or jumpsuits.
The other inconvenient is the length of the bodysuit. Just like it happens with swimsuits, bodysuits aren't as comfortable when you are a very tall person. Maybe wearing a basque will be a good alternative for very tall women.
Get creative!
We do love a good lace bodysuit. That's something we cannot deny. However, you have many options out there. Some bodysuits have sexy plunge necklines. Others come with a zipper or embellished details. Maybe you can try wearing a floral printed bodysuit like the one in the picture below.
Now that you know what's so good about wearing bodysuits, tell us, are you going to wear a bodysuit with built in bra this season? Are you going to go for a regular bodysuit, instead? Check out all our beautiful bodysuits here. We have new styles every month!
PIN ME for later:
You May Also Like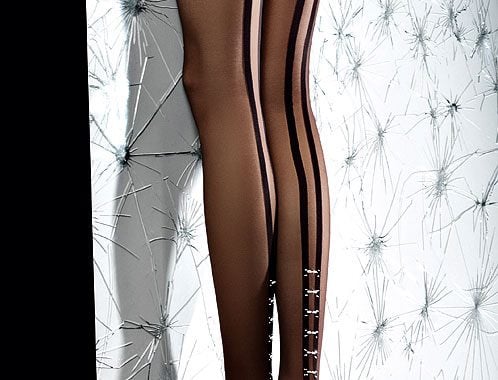 25 January 2012
20 January 2021