Paris Fashion Week 2023 – Our Favourite Looks
10 March 2023
This week was Paris Fashion Week for the year 2023. It is a huge part of our calendar and one of the best times of year for those who love style and beautiful clothing like we do. This year was one of the most interesting yet. Some of the creativity on display really shows why these designers have the reputations they do. Let's look at a few of the most interesting designers and their work for Paris Fashion Week 2023.
Chanel's Show At Paris Fashion Week 2023
Bruno Pavlovsky is Chanel's President of Fashion. Here is what he had to say about the Chanel show at Paris Fashion Week 2023, and what their aim was. "That moment when you can forget what is happening outside, or around you". That is what Chanel's show was all about. Making fashion that can dazzle you and bring you into the moment. It is a wonderful aim to reach for. And being perhaps the most respected design house in the world, they have the skills to pull it off.
How did they do it? By bringing us some of the most authentic designs of the season. They had amazing houndstooth, tweed, and other "old school" patterns and prints. It is the kind of think that would have been worn at Bletchley Park during the War. Or something you might find in a BBC historic drama from the earlier years of the 20th Century. It creates a real sense of homeliness and authenticity. And it is excellent at getting you to forget the outside world for a moment.
For this period, there is only one suggestion we can possibly make. And that is sheer stockings, the number one leg wear choice for a period drama.
Saint Laurent Taking Over The Stage
Saint Laurent appeared poised and precise as always. Their range was about power suits of the 1980s, which they brought forward to the now. They adore the precision of tailored suits, and is it any wonder? This house began because one of the most talented custom suit designers of the 20th Century. YSL himself would be impressed by what they made here.
The suit jackets are bold, to say the least. Gigantic canvases that the models had to bring with them down the runway. They were almost a ships sail as much as they were blazers, and the skirts were no different. Angular to the most extreme degree, with so many bold lines. The word "stunning" is about the only one we can summon for this range, and it is a most fitting one too.
And yes, they have made sure to include some sheer hosiery too. With a power suit like this, sheer tights are both stylish and easy to deal with when you are in a rush.
Schiaparelli And Their Winter Wonderland
The biggest up and coming name in the haute couture fashion world, without a doubt. Schiaparelli is not a new designer by any means, but its movement into the upper echelons of the haute couture world has been a steady and measured one. This is a clear sign they are one of the most creative and promising designers around.
Shiaparelli is all about golds, and chocolates, and creams. These should be staples in any winter wardrobe. Now Schiaparelli have made full use of these colours to create the warmest and most cosy runway show of the season.
If you need a recommendation to match this look, we suggest the Trasparenze Jennifer, especially for the cream colour. If you want something more chocolatey, then we suggest Falke Soft Merino.
You May Also Like
12 September 2011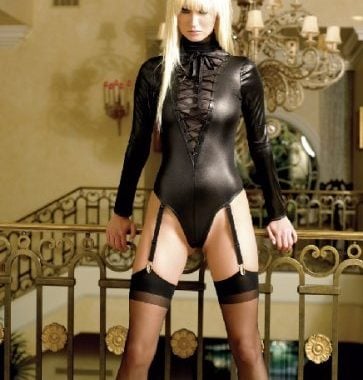 30 July 2009
6 January 2015