The Advantages of Crotchless Tights
11 June 2020
Crotchless tights are becoming ever more popular as people try the new way of wearing tights. For many years' ladies loved their full coverage of nylon, and then the cotton gusset was introduced. As time has gone on the crotchless tight has been debuted, and for different reasons, people have taken to this new way of wearing their legwear.
The advantages of wearing crotchless tights are easy to see, as ladies become more aware of hygiene and freshness. If you're a lover of crotchless tights, then you'll already know that alongside the obvious hygienic and medical advantages, there is a stylish element to this garment as well.
Like support tights, which have an obvious medical benefit to them, the crotchless tight does too, but the designers of these products have given them a great deal of thought and have decided if you're going to go for these, then they need to be stylish as well as functional. There is a unique fashion element to some crotchless tights also, as ladies love the look and feel of fabulous hosiery while remaining fresh and hygienic.
One of the biggest allures of the crotchless tight has to be the absolute sexiness of this product. The provocative and suggestive nature of these are irresistible. If it's fun in the bedroom, you're looking for but don't want the go down the stockings and suspender route then crotchless tights are the perfect addition to your lingerie draw.
Here are some of our favourite brands of crotchless tights to choose from.
Miss O, the perfect choice for fashion as well as style. This reasonably priced brand has an excellent offering.
One product of theirs that we think you'll love is this:
Miss O Sheer Gloss Lace Open Crotch Tights
Another one of their amazing products that are a best seller are:
Miss O Sheer Gloss Open Crotch Tights
Then there is this gorgeous design that people genuinely love:
Miss O Sheer Open Tights With Decorative Brief And Backseam
Cecilia de Rafael is another fantastic brand of designer hosiery, and their offerings in the crotchless tights section are second to none. We know you'll love these:
Cecilia de Rafael Vidrio A Glossy Crotchless Tights
And finally – Miss Naughty! This brand says it all! Totally fabulous, totally naughty, and totally gorgeous.
Miss Naughty Metallic Shine Crotchless Tights
This is just a small selection of our vast range of crotchless tights. If you've not tried them yet, then go ahead and give them a whirl. What have you got to lose?
You May Also Like

14 May 2010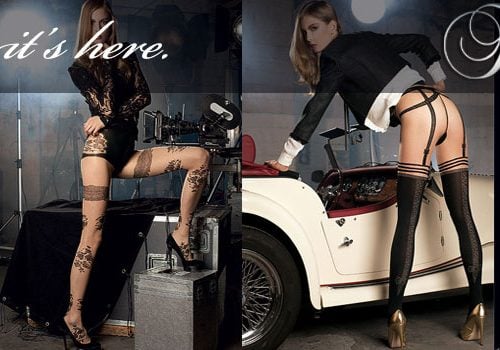 12 August 2013