How To Make Your Legs Compliment-Magnets!
20 September 2010
Of all the brands we've brought on over the last year, one particular name has got us very excited. I can safely say, everyone at UK Tights has been very happy to see Tiffany Quinn arrive with us and go on the site.
But why so excited?
Well, Tiffany Quinn is a young brand, and hasn't been around since before 2010, which means that UK Tights is the first retailer to sell their designs! Not only that, but Tiffany Quinn will be exclusive to UK Tights!
Oh, I can't hardly contain myself! Our first exclusive brand of fashion tights! Tiffany Quinn has seen to it that their items will NEVER be sold elsewhere.
Now, we've had exclusive items in the past. Max Mara isn't allowed to be sold on the internet, except by your's truly. And Trasparenze even re-released their popular Cortina Suspender Tights for us. But this is different, this is a whole brand.
And what a brand! All Tiffany's designs have one thing is common, you can't miss 'em! Tiffany Quinn hates subtle, all their items are brilliant and brash!
The Concrete Jungle
Something I noticed straight off was the urban theme in some designs. Paris, my favourite photo, is the perfect cityscape design. I have to compliment the designer on the grey, yellow and orange blend, Magnifique! Travelling across the pond, we reach Hollywood! This is a more cluttered, diverse and outgoing design, the Mae West of fashion tights. Perfectly named and a big contender for my favourite design. If you're feeling more Miami than Hollywood today, I'd try the Tiffany Quinn Emma, these are the same basic design as Hollywood, but in a neon pink colour-scheme.
Never Mind The Boring Prints, Here's Tiffany Quinn!
Now, I may have mentioned my fondness of 1970's Punk band The Clash (I know, the title is from the Sex Pistols, but I thought "Tiffany's Calling" was a bit too easy!). So when I saw this little beauty, it was crazy stage antics all around. Punky Diva is a real guitar-smashing pair of fashion tights, and a definite winner for shorter, black skirts. A real bad-to-the-bone fashion item, Roxi features love hearts and thorns, and shout "don't mess with me!" If you're the kind of girl that has a thing for Harley Davidson and very good music, these should suit you down to the ground!
Bron-Yr-Quinn
You know, it's not all heavy rock with me, I do enjoy some good ol' Folk stylin's too! So, let's go over the hills and far away to Leopard Rose! Animal print is always popular and floral is timeless, so if you're the sort of person that wants to stay fashionable and natural, these tights wont lead you astray. Another variation on Leopard Rose is the Tiffany Quinn Wild Thing. Like the Leopard Rose, it features floral and animal, but printed only in the more vibrant shades, the Wild Thing is more welcome in the jungle than anywhere else. If you're looking for some real natural chic, Tiffany Quinn Leopard Print Fishnets are perfect. Yep, you heard right, a leopard print on a fishnet! These innovated fashion tights give a more subtle tone to animal print, which can be a little too loud for some, and you can't go wrong pairing them with denim shorts. Leopard Fishnets also come in a coloured variety, so if you are feeling like some flowery pink or lavender, you're in luck! For more stuff on more natural fashion tights, take a look at another post I wrote recently.
Just Plain Fashion-tastic!
Speaking of Miami, you can get the neon look with So Cute! Tiffany Quinn seems to love their head-turners, don't they? Another item that causes a few sore necks is the Elektra. Warning, these tights will cause compliments, chatter and an excess of attention to your legs. Not a bad thing, by any means! Well, I have to admit, my descriptive skill ends here. With these last two designs, you'll have to take a look for yourself!
There's one more design that I've saved for the end. Tiffany Quinn Mono Pop. If you don't like Pop Art all that much you might find these aren't for you. They're a real love-it-or-hate-it design. Personally, I love them! Pop Art has always been vibrant, and its never boring! That's why I love Tiffany Quinn's designs, they're never boring.
Well, that's all from Tiffany Quinn for a while, but I'll bet my bottom dollar that they'll be plenty more designs going on in the next few months. I hope you enjoyed this review, and if you thought Tiffany Quinn's collection was something to shout about, why not leave a comment or email me via "Contact" on the right. It'll be good to hear from you!
You May Also Like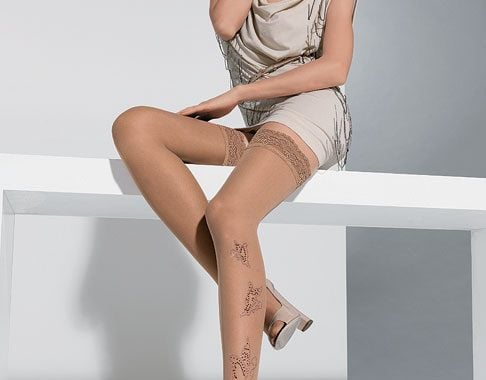 5 April 2012