Tights Gentlemen, Please!
14 September 2010
I was checking my email the other day, and I noticed a message from the UK Tights blog. One of my subscribers had sent a request for a post. He asked me if I could do a piece on men's tights. So I emailed him back and said I'd be happy to!
Afterwards, I realised that Dawn posted on men's tights a few months ago, and it got some pretty positive feedback, so I thought it might be time to recycle that old post and write one for my own subscribers.
Another thing I realised was I haven't been giving my readers a proper way to request posts from me! This is a big deal because I always like to connect with readers, so send me an email by clicking "Contact" on the right of the page. If there's anything tights-related you'd like me to post on, just send me a request.
So, on to tights for men!
As Dawn mentioned, men's tights (or mantyhose) aren't exactly new. It's been the height of fashion for a couple hundred years for gentlemen to be seen wearing high-quality hose! So it's not much of a surprise this trend is making a return.
Now, you might think men's tights are probably difficult to get hold of, and only a few specialist stores can get them for you. You'd be wrong! it's not just specialist shops that sell these.
UK Tights has sold some of the best quality men's tights for years, and they sell very well. Even larger stores, like Selfridges are selling mantyhose. Now, I like to shop in big department stores as much as the next person. But when those bigger stores start charging £70 pounds for something that's £35 on the internet, the fun sorta goes out of shopping.
Gerbe Tights for Men, at UK Tights!
Well, good news, UK Tights stocks Gerbe Men's Tights, from Paris, the most professionally made men's tights in the world, ranging from £20 and £35.
Oh, I feel a review coming on!
And, if there's one brand that makes any kind of hosiery better than the rest, it's Gerbe!
Gerbe Men's 100 Denier Opaque Silk Tights are our best selling male product. Gerbe don't release too many patterns with their fashion tights, but they are renowned for fantastic quality, so it doesn't surprise me that this product is so popular.
It being pure silk might also have something to do with its quality.
Great quality and fantastic finish
Another item that's both Winter-ready and that's renowned for its comfort and feel, is the 70 Denier Opaque Tights. These tights are nylon based, and are as well-made as their silk counterparts. Definitely a good investment if it's Winter tights you're looking for, as nylon is a little more insulated than silk. So, you'll stay much warmer and fashionable!
Then again, if you don't want to be too snug, the best alternative is the 70 Denier Opaque Footless Tights. No one likes their feet too warm, they might get clammy! So if you need something for cooler weather, but prefer to keep your toes free, these are most certainly for you!
Gerbe Tights for Men are an option in Summer, too
The last Gerbe item is more of a Summer feature, so if you live in warmer climes, I've got you covered. Men's Satin 20 Denier Tights are exceptionally well-made and one of our best selling products. This I'd definitely recommend for comfort, fit and your wearing pleasure.
Well, as men's tights go, this is it from Gerbe. But another brand of ours, WoMan, specialises in another fantastic innovation, unisex tights! But that's a post for another day!
I do hope you've enjoyed reading, and if you're are gentlemen interested in trying some top-notch hosiery, Gerbe is definitely a good place to start. The only trouble is, Gerbe tights for men are very nicely made so you might end up spoiling yourself!
You May Also Like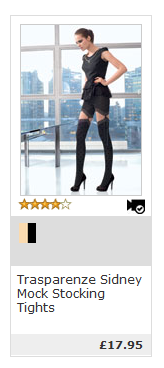 16 September 2011
24 November 2014