What's All The Fuss About Stockings?
18 June 2020
There will always be ladies who love to wear stockings, and there will always be ladies who love to wear tights.
If you're a stocking wearer, you'll understand the intricacies and benefit to wearing them. If you're a tights wearer, but you've always fancied wearing stockings, why not see what all the fuss is about and give them a try.
Here's a great tip; if you wear stockings, then for every two identical pairs you buy, you will always have a backup pair to hand. This is because if you ladder one leg on each pair, then you still have two unladdered legs to use. You can mix and match your unladdered legs, thus giving you a backup pair of stockings. This is not the case with tights. Once you ladder a leg in a pair of tights, that's both legs ruined.
Here are a few tips to help you choose the right kind of stocking and what to expect when they arrive. We're also going to tell you how to wear them if it's your first time.
Firstly, you need to know that to wear stockings successfully you will need a suspender belt as they don't hold up on their own. There are many to choose from at UK Tights, and we will always be happy to help you make the right choice to suit your needs. I'm tempted to tell you all about those, but I'm here to talk about stockings. So maybe in another blog post, we can talk about suspender belts. Here's a link to our suspender belt section for you to take a look.
When you have decided you want to try stockings you need to decide in what capacity you'd like to wear them. Is it just for a change and you're used to wearing 15 denier tights or is it for a sexier look and feel? It could be because you want to be less warm or perhaps you don't like the feel of tights against your intimate area. You might have some medical needs, and only stockings will do. There are many reasons for trying stockings, but it's much easier to choose a pair once you'd decide this.
So, let's go for the easiest one, the sexier look! We have over 150 different stockings to choose from. Which, as I'm sure you will agree, is quite a lot. Because of this, I'm going to suggest a few pairs that you might find to give you a sexier look. The first item would be:
Ballerina Artemis Smooth Top Stockings
Elegant and sophisticated. This stocking has a beautiful design at the top which leads onto a smooth band which you can attach your suspender belt to.
What Katie Did Glamour Cuban Heel Seamed Stockings
This is a back seamed stocking and is the absolute pinnacle in femininity and sexiness.
Miss Naughty High Shine Sheer Stockings
A beautifully elegant stocking that has a glossy and enticing look.
All of the above are perfect stockings to try out for that "new you" look but if it's not a sexy approach you're after then perhaps you could try some less expensive options that are more practical and functional.
Pretty Polly Day To Night Stockings
These are the perfect stockings for everyday use. They are well made, inexpensive and perfect for the beginner as they are comfortable to wear.
Charnos 24/7 Sheer Stockings
Again, another perfect stocking that can be worn every day for all kinds of occasions. Easy to wear for work but also sheer enough to go out for drinks in.
Buy yourself a pair of hosiery gloves and a decent suspender belt. Put the suspender belt on first then the gloves. Carefully take the stockings out of the pack. Take each leg and put your thumbs inside the top of the stocking, gently roll the stocking up until you are at the toes. Bend forward and place your stocking on your toes and gently roll them up your leg. Attach to your suspender belt with the clips and then do the same the other side. Then you're good to go!
You May Also Like
4 June 2020
14 April 2015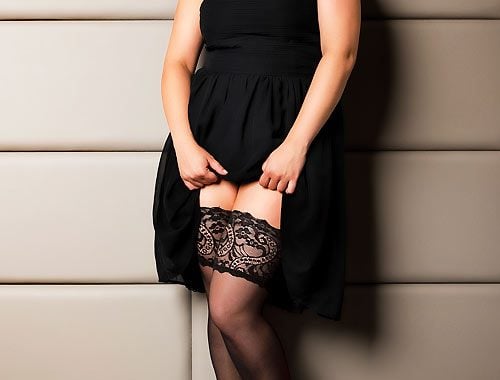 25 July 2018