Eva Longoria Wears Fishnets To Victoria Beckham's Fashion Show
2 October 2023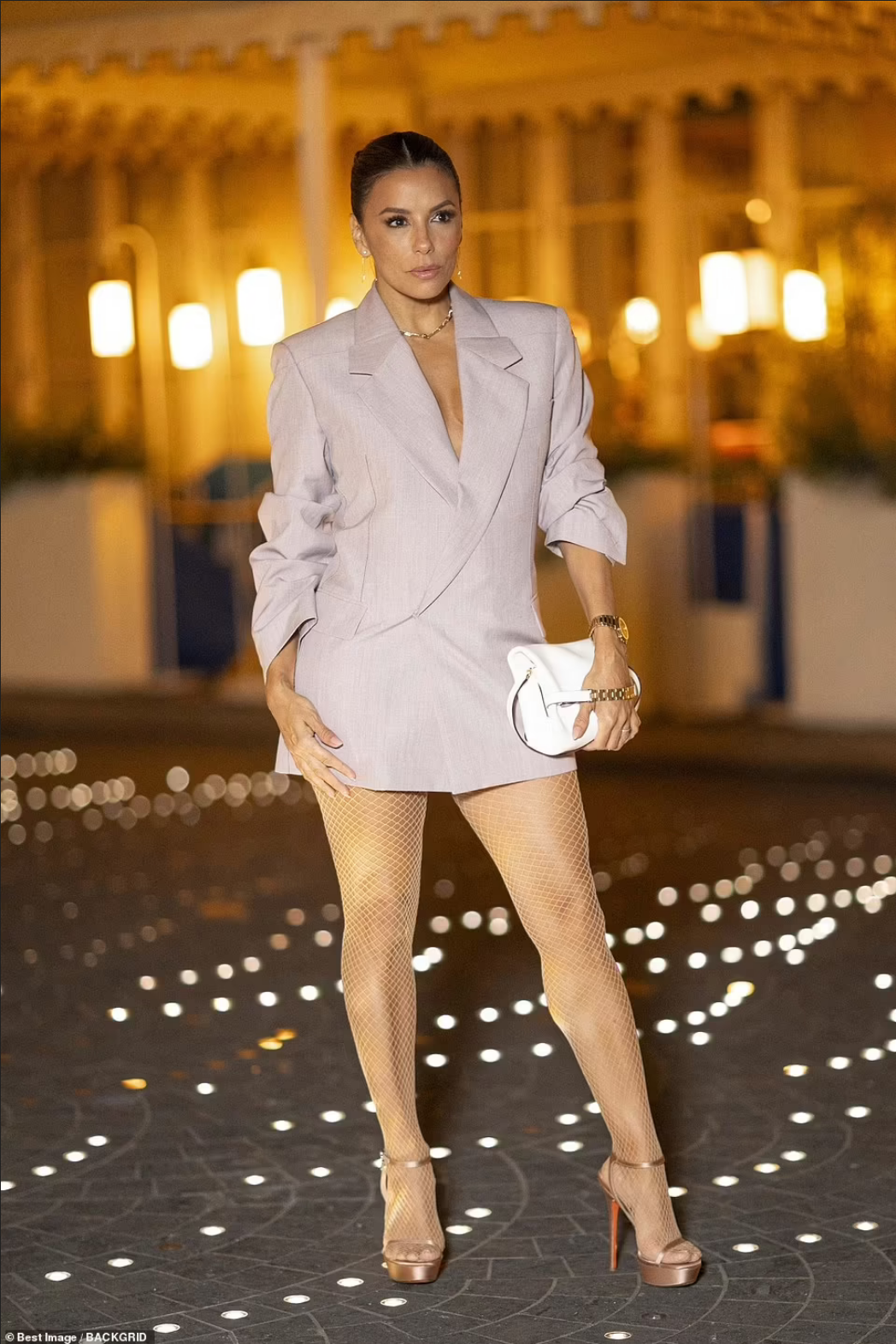 Eva Longoria and her fishnet tights are simply gorgeous in the picture. Longoria is an actress, director, and activist and is known as something of a fashionista too. And she often appears in some gorgeous leg wear, like these nude fishnet tights.
Eva Longoria showcased her stunning legs most recently at her friend Victoria Beckham's fashion show after-party on Friday. She joined Kim Kardashian, Neelam Gill, Rose Bertram and other models and fashion lovers there. These celebrities donned some very glamorous outfits following their attendance at Victoria's show. Her runway has been one of the most highly-anticipated in Paris for the past few weeks.
Eva Longoria Is A Fashion Icon In Her Fishnets
The fashion show attracted a plethora of A-list personalities. They naturally included the Beckhams, who came out in full support of Victoria. For this dazzling event, Victoria's dear friend Eva exuded elegance. She wore a lilac blazer dress, complemented by nude fishnet tights that accentuated her well-toned legs. Eva added height with gold platform heels and carried her essentials in a white handbag. Above, she shows off this beauty with a striking pose. And all this while offering her unwavering support to her friend Victoria on her big evening.
At the party, Eva was joined by Victoria. As always, Victoria Beckham looked fantastic, and earned her nickname Posh all over again. She  looked ever so graceful in a black mini dress as they posed for photographs outside the venue. Overflowing with admiration for her friend, Eva shared a photo of them both on Instagram. She captioned it "So proud of you always!" in support of her friend. Earlier in the evening, Eva had already made a striking impression at Victoria's fashion show. She had appeared wearing a vibrant red ensemble.

How To Get The Eva Longria Fishnet Look
Do you want to get the same hosiery as these Eva Longoria fishnet tights? It is a simple but devastatingly stylish look. This is good news as you can find a look like that quite easily. We recommend the Wolford Twenties Econyl Tights. We have added their image above and they are very close to the Eva Longoria fishnet tights. They have the same small gauge net and the same light tan shade. That is, if you go for the gobi colour.  And what is more, they are very eco friendly. Twenties are made with recycled yarn and are some of the most ethical tights in the world. Not to mention, Wolford are some of the best tights in the world on quality too. And knowing how popular Wolford is among fashion lovers, it wouldn't surprise us if she is wearing these exact tights. So why not pick up a pair of these today?
We love seeing celebrities sporting gorgeous leg wear. If you do to, then we often post about it in the celebrities section of our blog. You can find all of those posts right here.
You May Also Like
16 August 2011