Our Picks For The Best Met Gala 2021 Outfits
18 September 2021
The MET Gala is, shall we say, a unique event. The gorgeous and stunning take equal place alongside the experimental and the wild. It is the best of times for fashion, and the most head-scratching of times too. But whatever you think of the infamous MET Gala, one thing is for sure, your opinion on it is a strong one. Our opinions are every bit as strong as yours, we imagine, but we have decided to channel ours into a list of our most beloved outfits and the ones that impressed us. Here are a few we adore, in no particular order.
Irina Shayk
We love the new lingerie-as-outfit trend, and this outfit is the centrepiece of Ms Shayk's dress. Sometimes called a "naked dress", this is a shaping corset with built-in panty, and it is perfect for something dramatic and sexy with a dose of timeless pin-up charm. Glossy sheer tights are perfect for highlighting the only actually and truly naked part of an outfit like this.
Megan Thee Stallion
Speaking of pin-up, Megan Thee Stallion had one of the most classic looks with a Marilyn Monroe style dress and a wavy curling hairstyle. This is a stunning and dramatic style that we have always loved. As purveyors of legwear, we are keenly aware that this style is one of those that almost require hosiery. Pair with backseam stockings for the most pin-up look possible.
Grimes, The Most Creative MET Gala Outfit Of 2021
And now, the MET Gala outfits begin in earnest. Grimes, as she often does, has given us a visually stunning and dizzying treat. Grimes is a massive fan of the Frank Herbert novel Dune and often says that fashion and art are inspired by the book. Her debut album's title and track names were even named after characters and places in the story. This out is almost undoubtedly inspired by Dune. It is a true Bene Gesserit number in the dress itself and a Fremen-inspired face mask, and if you know what any of that means, then you will see the inspiration for yourself. Oh, and that sword is something else. We recommend something with a heavy and hypnotic design, like a pair of patterned tights if you like this style.
Billie Eilish, The Most Classic MET Gala Outfit Of 2021
As you can already tell, we will have many pin-up inspired items in this post. MET Gala outfits are often wild and outrageous but they don't always have to be to turn heads. We do adore this look, and Billie Eilish undoubtedly had the most dramatic-looking outfit in this whole trend. The Oscar de la Renta dress she wore is a Monroe-inspired number, without a doubt. It even looks like one of her most famous dresses, the ballgown she wore at the 1951 Oscar ceremony, except Ms Eilish's was in a gorgeous peach and cream colour scheme rather than black. We have already recommended backseam stockings. We will suggest seamed tights or maybe even seamed hold-ups for this dress. With a floaty dress like this, you can have the comfort of tights as no stocking top will ever peak through something like this.
Rosé
The K-Pop superstar is probably the most elegant and minimalist attendee of the event, and that should tell you how different and unique her look was. Rosé has the typical LBD, the Little Black Dress, with a gorgeous and generously sized white or off-white bow. For something as subtle as this, we recommend sheer matte tights. Why matte? Simple, something like this dress is meant not to be seen, the woman in the dress is. So a black dress loves something just as quiet and gentle as it is.
Karlie Kloss
Would anyone have ever thought that Karlie Kloss would not be on this list? It is impossible. Ms Kloss is one of the most prolific and well-respected fashion models in the world of apparel and design. There is simply no way that she would not have turned the most number of heads that evening. The red rose style dress was dramatic in the extreme and carefully orchestrated and balanced, just like a woman of Karlie's poise to set up such an elegant and dramatic look. If you have something as red as this and a rich satin finish, we recommend a light sheen pair of nude tights. Matte would not suit, and something too glossy overpowers the dress.
Kendall Jenner
One of the most feminine and revealing dresses in the whole gala Kendall Jenner had a sheer dress with silvery stars to add an admittedly small sense of mystery to the gown. It is a standout at the MET this year, not for having a wacky MET-Esque appearance, but for being both beautiful and genuinely daring. Givenchy designed it, and we adore it. If you are going ultra-transparent, then you need ultra-sheer tights. Nothing should distract from something like this and if it is meant to show off your legs and figure, let it do its thing. Ultra sheer tights are anything less than 5 denier and are almost invisible, just handling troublesome blemishes and smoothing out your colour.
Olivia Rodrigo
Lace, lace, and some extra lace. A stunner of an outfit, This lace bodysuit is an incredible item and one that turns heads like little else. It is not the overly theatrical kind of outfit that would be traditional MET fare, but it is also really and truly stunning in a more classic sense. But the greatest thing is that we can recommend all sorts for you to get a look just like this. Lace tights are the obvious choice, and they are so easy to pair. But we also have lace body stockings, so if you want the whole outfit and an almost identical look, see our body stockings.
Gigi Hadid
Just like Rosé before her, Gigi Hadid went with the minimalist look. It is an interesting white dress with black trim, the inverse of the black with white accessories that Rosé wore. This is a silky and satin gown with an inbuilt corset style structure, designed by Prada. The creamy white is the perfect contrast to the black, which leaves us with two choices for a recommendation. If you love the dress and its texture, we recommend checking out our bridal stockings section. Nope, they aren't just for weddings, but their creamy look is becoming popular in its own right, and you can pair ivory with quite a bit.
The more obvious choice would be to take inspiration from those gloves, a stand out from this year's MET gala. Black leather is becoming insanely popular in the form of leggings. We have so many black leather biker-style leggings, and you should check them out and pair them with a satin off-white or white top for the perfect Hadid-esque look.
Megan Fox, The Most Beautiful MET Gala Outfit Of 2021
Megan Fox has always had that extraordinary and old school charm about her. The piercing blue eyes, the raven black hair, the exquisite bone structure. She was born and bred to be a Femme Fatale. And she pulls the look off beautifully. We promise this is the last time in this post we will wax lyrical about the 40s and 50s. Ms Fox has the soul and outward appearance of the burlesque showgirl and the fierce Hollywood sex symbol of yesteryear. And this dress proves it. Designed by Dundas, the ruby red trailing number, complete with side split, strappy cutouts, red heels, and lipstick, is a heart-stopper.
You could go plain for a look like this, as we mentioned with our ultra sheer recommendation above. The heels, makeup, and dress all play their part here. They are as red as possible, so why stop there? Contrast stockings with a red top and red seam would maximise something like this. If you, too, are a fan of red dresses and shoes and lips, you likely have an outfit combo like this. Check out our red contrast stockings and take it to whole new dizzying heights if that is the case.
See the more recent 2022 MET Gala review here.
You May Also Like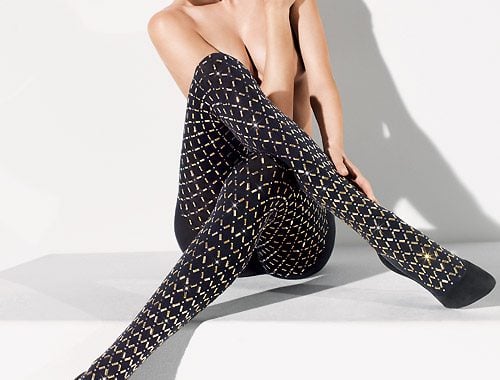 25 October 2014