Spring Tights 2023, A Few Suggestions
28 April 2023
It is, believe it or not, finally Spring again. After what seems like an eternal interval, it is now getting lighter and warmer all over the Northern Hemisphere. So we think it best to offer you some amazing suggestions for the very best new leg wear designs for spring. All these items are perfect for the slightly warmer weather. Here are a few selections for the best spring tights for 2023. And for your convenience, all the images at the top are organized left to right, heading downwards. So you can find each suggestion in order below.
Wolford Fatal 15 Tights Duo Pack
Wolford Fatal 15 is now available in a two pair pack. This is a rarity for Wolford, a design so synonymous with premium. Few premium brands ever venture to make multi-packs for their items. And Wolford have historical had one or two out at any one time. And always in limited stock. The Fatal 15 Tights from Wolford are immensely popularity among fashion enthusiasts, however. So with this sheer popularity of Fatal 15 and the constant requests for multi-packs, they have relented.
Now, these highly sought-after tights are available in a convenient duo pack. This also means they discounted when compared to buying single pairs. What sets the Fatal 15 apart is its exquisite sheer seamless design. It is both incredibly soft and stunningly fitting. Just as you would expect from Wolford.
And of course, it is 15 denier. This makes it an easy wear for spring. 15 denier is perfect in warmer weather. You only need to go higher if you want to go into the scorching months of the summer. So, if you're in search of sheer seamless tights that are high quality but a great offer, look no further than Fatal by Wolford.
Andrea Bucci Barely There Ultra Sheer Tights
Andrea Bucci has one of the best invisible tights on the market right now. Barely There is a stunner of a range, and their Barely There Ultra Sheer is one of the most subtle items in this collection. As the name suggests, these tights feel incredibly lightweight. And they are, indeed, barely there when you wear them.
This item uses a material that is only 8 denier, so they are exquisitely sheer. The comfort and fit is great, like a second skin. Barely There are light and easy to wear, adding a touch of colour to your legs without being seen. They could not fit more perfectly on our list of spring tights in 2023 more if we tried.
Cette Lucca Matt 20 Denier Tights
Cette Lucca might just be the most subtle of all the tights here. Lucca is an exquisitely subtle matte tights design. It is genuinely perfect for any occasion. With their sheer texture and matte finish, they are ideal for adding a touch of colour and concealing imperfections. All this while keeping your style discreet. They look great whether you're wearing them to the office, a romantic date night, or any other occasion. Lucca effortlessly complements your outfit.
But because they are matte, they also remain very stealthy too. These tights are some of the most under-the-radar items we have as spring tights in 2023 go. So pair these with any attire and let their versatility speak for themselves. And all of this without giving away the fact that you're wearing tights.
Sarah Borghi Amelie Over The Knee Tights
Sarah Borghi Amelie is a captivating new addition to our fashion tights range.  It boasts a stunning lace print and an attention grabbing pattern that extends over-the-knee. It is one of those designs that is sure to turn heads. This design is all about contrast. A sheer thigh, then a floral lace pattern from the toes to the hold up tops. This unique combination adds plenty of eye-catching contrast without looking too overwhelming either.
This is a great option if you are looking for spring tights for the 2023 season, and for two reasons. One is that it is still sheer, with a 20 denier material. This makes it ideal to beat the heat. The second is that it is our only patterned item in this list. Spring tights for 2023 does not have to be built around tights that are without any patterns. Sheer does not mean plain. We want to suggest Amelia because it is fun too. These tights are the perfect option for those who want something as complex and rich as they do something sheer.
You May Also Like
16 August 2010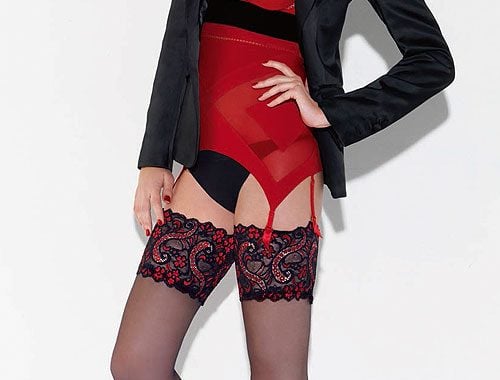 8 January 2015
8 November 2019