The Big Three, This Valentine's Day
23 January 2012
Now, we at UK Tights are all of us perfectionists, so we know finding the perfect gift can be incredibly difficult. Valentine's Day may be some time away, but this is a huge holiday for you, and us. We want to make sure you get ample opportunity to see our very best offerings well before the big day.
That's why we've started showcasing our Valentine's Day collection early. If you've been to our website's homepage this morning, you'll see this here advert.
This may be one of the largest, most varied Valentine's Day collections we've hosted since our first year. This time last February, we fewer brands, a smaller number of products to each range and less knowledge of the fashion world to our name.
Each year, we try and become more nimble with our design choices, so we can find you what you need, and what you want. This Valentine's is going to be a product of that hard work. Here's a few of the trends that are starting to show themselves for this February.
1. Seams
There's nearly half a dozen seamed items in just the first few rows of our Valentine's Day section. Seams are a classic, and the old Jazz Era style has been creeping back into vogue, but it's fantastic to see it take on such life all of a sudden.
2. Suspenders, But Not Really
Another popular item that we think should be featured heavily this year is suspenders tights and mock suspenders. Now, suspenders belts with some beautiful stockings are a staple of Valentine's, but a little too timeless to be talking about them as a trend. Mock suspender, though, are a relatively new phenomenon, and suspender tights have been sweeping our ranges extensively over the past few seasons.
Both of these items, we think, are getting to be so popular because of their ease of use. Mock stockings are simply printed or woven into the fabric. Just pull on one garment, and you suddenly have access to a whole range of interesting designs with minimal effort. Simples.
3. Taste the Rainbow
Black and Red stockings for Valentine's day
Black and red, maybe pink. These aren't just the staples of Valentine's Day apparel and almost all other sexy garments, sometimes it's all that's available.
Something different: What about blue stockings?
Well, how about blue? Not the most obvious choice for the sensual and seductive, but it's present and kicking up a storm in this year's assembled designs. Two pairs of Cervin stockings and several suspender belts have embraced royal blue for 2012's season of love. And what about green? Jade and jewel greens have cropped up more than once.
We're glad to see some of our designers diversifying their work. We think this coming month will be exceedingly exciting, and we can't wait to see what will turn out to be your favourite items.
Until next time, when we'll be looking at some more Valentine's Day delights and choosing some hidden gems for your viewing pleasure.


You May Also Like
7 November 2012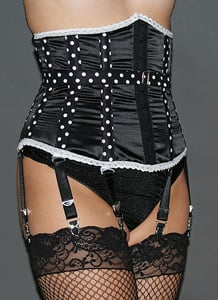 3 February 2010
11 April 2014