15 Minutes of Fame: Miss Oroblu Easy Skirt and Leggings
18 November 2010
I've noticed over the past year or two, when you work for a tights retailer, no matter how clueless you normally are about fashion, you still get sucked into the odd girly raving from time to time. You can't help it, it's the job. Being surrounded by female employees (shan't complain) and answering the phone, only to bombarded by young, chic twenty-somethings (shan't complain) asking you if these tights will make them look 22 instead of 23, infects you with a mad urge to join in. You start to think everything is fabulous yourself.
As it happens, I have quite the keen eye when it comes to putting together a striking outfit. Suits and ties, shoes and socks, ten-gallon hats and spurs are all things I can handle with reasonable results. So, combining my own sense of dress and the odd emotional outburst at a striking design leads me to mention an item that, I think, deserves its own review.
Miss Oroblu, a baby brand of Oroblu, released the Miss Oroblu Easy. The Easy is a skegging.
Now, there's little new about skeggings, they've been around for a while and they have flown in and out of popularity. So why review something you probably know about already?
Well, there's something different about this item. With the Easy, the skirt and leggings are perfectly matched. They're sown together at the waist with perfect precision and they never move out of place. This has always been a big bug-bear with the people that where this kind of thing. "The skirt isn't in line properly" and "the stitching is sticking out and it's uncomfortable" or my personal favourite, "I keep rearranging my knickers 'cos this thing doesn't fit!"
That's the most obvious benefit of having a perfect fitting product, but another big one I think I should mention is the look. When an item fits perfectly, you look perfect. A little bit like a backseam, this design with enhance all the right areas and compliment your shape.
This is what makes Miss Oroblu's product worth a review, a video and constant mentions on our Facebook. Their skeggings are well made, they'll fit a treat and they look fantastic on! I'll give you my personal guarantee, the Miss Oroblu Easy are the best of their kind and the best you'll ever wear!
Other little something-or-others to note. The skirts are checked and coloured, available at the moment in blue and fuscia, although I hear they are getting more colours in for next season! (RE: girly raving)
To close my review, I'll set the scene. Saturday night, cityscape, the crowds are teeming. Any bar or any club…. Heels!
I told you I could put a good outfit together!
You May Also Like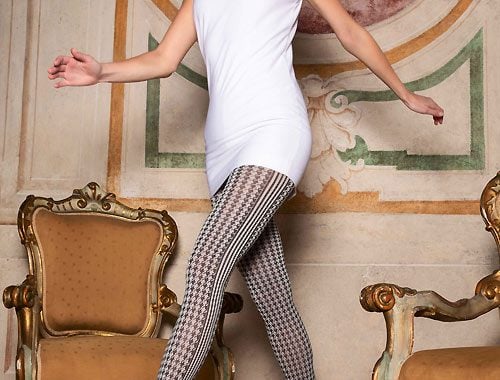 29 August 2020
16 August 2010