A Bustle in your Hedgerow
24 August 2010
I was watching TV the other day, and I noticed something quite interesting on Gardener's World. I noticed that when I'm in my garden, or doing any work around the house, I throw on something scruffy, but the presenter was wearing a floral skirt and some very fashionable knitted tights.
At first I thought it might be because she is presenting, but then I realised I do the same thing. Not with skirts and tights, but I do get fed up with wearing old painting rags, and I'll put on jeans and a button-down shirt. Sometimes, it's just nice to look nice, even if you're not going anywhere. So, having realised there's a whole range of outdoor hosiery needs I haven't covered, I've set to work compiling a little handbook of great outdoor ready, warm woollen tights, Eco-friendly items and woolly knits you might want to pair with your wellies.
Now, if you're a gardener, you might be saying "Its gonna be Winter soon, I need tights, but not for gardening!" Well, that's true, but of course, there are all sorts of little jobs that gardeners get up to at this time of year. Building little enclosures and such. So you might find your spending more time out there than you'd expected.
So, the first item I'll recommend is Bonnie Doon Plaid Tartan Patterned Tights. Yes, it's a fashion item, I can't help it! This piece is absolutely brilliant, both design-wise and in quality. I did pick this one based on its more natural, earthy colouring, so if you feel like wearing something particularly smart, these are for you.
Although I would keep in mind, the Bonnie Doon Plaid is an acrylic item, so if you're searching for a more natural feel, I'd suggest the Trasparenze Gennifer. These are made from 70% Lana wool, one of the most luxurious materials in leg wear production. Lana feels as smooth as cashmere so these thick tights will stay warm, comfortable and stylish for any outdoor activities.
If you do want to stick firmly on the side of fabulous, there's a second Bonnie Doon product I can recommend. Bonnie Doon Uniform Footless is a fantastic design for wearing in the wilderness of your garden. The grey and heather combination will give you the perfect Highland look and keep your legs snug and cosy.
One item I must cover (for fear of being labelled a bad blogger) is knitting. Every gardener or generally an outdoors person, you have to include one or two knitted items in your Winter outfits. So, if you plan on Spring cleaning like the May Queen this season, you absolutely must try Trasparenze Chopin. These aren't strictly knitted but crocheted. This makes them particularly insulating, and keeps any outdoorsman (or woman) warm all day long and still gives you that perfect folkish country look.
Unfortunately, I can't review all of our woolly outdoor tights, as we have so many of them! Darn, our huge selection! But the best place to go if you want some other warm and comfy items is our Wool and Winter tights section, or if you want extra cosiness around your ankles and lower legs, our Leg Warmer section might also be worth a look.
If you found this review helpful, sign up to our blog and receive free updates by email, or if you know someone with greener finger's than yourself who might like my review, forward this email on to them. And merry outdoor adventures to you!
You May Also Like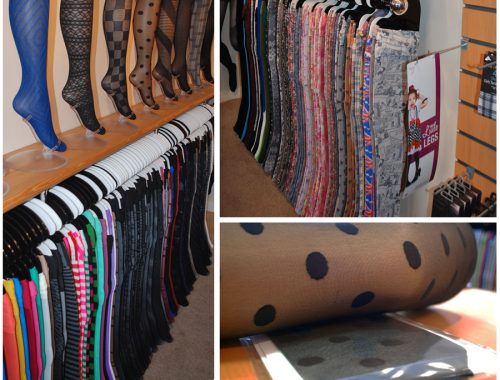 13 March 2015
18 January 2010