Are Fishnet Tights Back into Fashion?
29 April 2015
At UK Tights we're always ready to catch the latest Fashion trends, particularly all related to Legwear style. We've noticed Fishnet Tights are clawing their way back to Fashion and back to your wardrobe. Do you want to know why do we say Fishnet tights are back into fashion? Easy! Because we cannot stop seeing fishnets everywhere we look! Here you have six sexy examples:
1. Bella Hadid features Wolford Fishnet Tights in ELLE
Did you miss it? Check it out here. If you ask yourself what is Bella wearing, think for a second. What kind of hosiery combines with a Saint Laurent Leather dress, an LBD or a Chanel swimsuit? A pair of Wolford Twenties Fishnet Tights in black! How not?

2. Custo Barcelona's catwalk at New York Fashion Week AW15
Here you have the proof! Fashion designer Custo Barcelona spotted black and red fishnet tights at New York Fashion Week Autumn/Winter 2015. And it wasn't the only one. British Vogue also noticed it. It can't be a coincidence!
3. Maria Carey shows her legs off in Micronet Tights
Well… this doesn't prove anything, am I right? When hasn't Maria Carey wore fishnets? She's a tights-addicted! Get Maria Carey's Legwear style. When she's not wearing glossy tights, she's out in fishnets. Lately, we've spotted her in micronets. Something like these: Pierre Mantoux Trame Mircronet Tights (£16.99) and Levante Micronet Tights (£7.99).
4. Ariana Grande performs in Nude Fishnets Tights
Ariana Grande is a huge fan of nude fishnet tights. She wore them in one of her latest performances, whose pictures have been everywhere after she danced very close to Justin Bieber (too close, according to her ex-boyfriend). Get Ariana Grande's Legwear look: Pierre Mantoux Nassa Fishnet Tights in three skin tones, to match a larger range of skin tones than other nude tights (£15.99).
5. Madonna Rocks in Fishnets Tights for COSMOPOLITAN Magazine
Souce: YouTube/Cosmopolitan
If you thought Madonna only features fishnet tights on-stage, think again: Madonna is the 50 Anniversary's cover of Cosmopolitan Magazine and she rocks it in black fishnet tights.
6. Taylor Swift performs in Black Fishnet Tights
We know Taylor Swift is a fan of hosiery and a total Fashionista. The singer performed in Black Fishnet Tights at the Brit Awards. Wolford has already confirmed she wore the Wolford Twenties Fishnets, right as we had predicted in our Twitter feed. After all, Taylor Swift is a Wolford girl!
These six reasons prove that Fishnet Tights are back into Fashion. If you wonder what fishnet tights are the best for you, check out these tights:
You May Also Like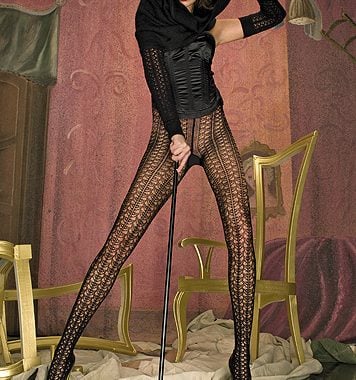 4 September 2009