Autumn Winter 2018 Tights: Which Tights Brands Have New Styles?
1 August 2018
August is one of the most exciting months for hosiery fans. While most people are busy thinking of swimwear, sun and beaches, all we can think of is Autumn! August is the month when UK Tights gets ready for the arrival of Autumn. The UK Tights warehouse gets all the new Autumn Winter 2018 Tights, stockings and socks. We have to say it: so far, everything we have received is simply amazing! So stunning! We are really excited about the upcoming season!
We know some of you buy your back-to-office outfits at the same time you get your back-to-school essentials. Tights, of course, are a must in Autumn, and now it's the right time of the year to buy fashion tights. The reason? We stock all sizes and colours available! You don't have to worry about finding a style in your size within your budget, as we often stock all the sizes available in the market.
Do scroll down and take a look at our list of what has arrived and what's due soon. We'll update this list with new styles, as soon as they arrive. Always in alphabetic order, to make it easier for you. Keep reading to find out which tights brands are ready to buy.
Le Bourget Autumn Winter 2018 Tights
Not the largest fashion collection, but surely one of the most beautiful. Le Bourget fashion tights are a combination of elegant Couture-inspired styles and more urban Street-inspired looks. Take the example of these two-tone tights. They are Chanel-inspired, so they look really smart. At the same time, it's a leg style you can easily pair with trainers, right? You don't need to invest so much to get a pair of tights you can wear from day to night.
Oroblu AW18
Oroblu's latest collection is all about the patterned tights! Within all the pretty diamond patterns and the geometric nets, we have found this interesting style, inspired in the "O" of Oroblu and it's logo in gold. It's perfect for all the fans of tights! You can find out more about the Oroblu Autumn Winter 2018 collection here.
Pierre Mantoux's 2018 Elegant Styles
Pierre Mantoux legwear is absolutely brilliant, season after season. You can really tell Pierre Mantoux is a leading brand in fashion tights (and socks, of course, because Pierre Mantoux lace socks are the cutest, too!). While Pierre Mantoux AW 2018 collection has some beautiful patterned styles, as well as a chic two-tone style, too, our favourite style is a lace one; the lovely lace tights above. A classic, yet timeless, leg style.
Pretty Polly AW18 Fashoin
Are you a fan of Pretty Polly? If you said yes, you should definitely check out all our new arrivals. Over 40 styles, including patterned tights, fishnets, lurex… as well as all sorts of socks for both every day or a special occasion, like of those parties we all have at the end of the year. We have also received new Halloween tights and the cutest Christmas tights and socks, too. Christmas in August!
Trasparenze AW18 Fashion
No Autumn-Winter season would be complete without the seductive styles of Trasparenze. We stock every single item they do. We can help it; we love Trasparenze. Year after year we get amazed by Trasparenze's sophisticated leg looks, as well as its great floral patterned tights and, of course, its geometrical patterns and motifs. What's not to love in Trasparenze hosiery after all?
Wolford Fall Winter 2018
Last but not least, Wolford. Needless to say that Wolford is our best-selling tights brand, so, as you must imagine, introducing every new Wolford item is very special for us. We have received the first Autumn Winter 2018 Tights and Socks, but there is much more to come. So, keep checking our Wolford shop section for new items. We'll be adding new styles every month!
So, now that you know what has arrived, can you share with us what tights brand are you most excited about this Autumn? Have you decided on treating yourself with any of these styles already?
You May Also Like
3 June 2013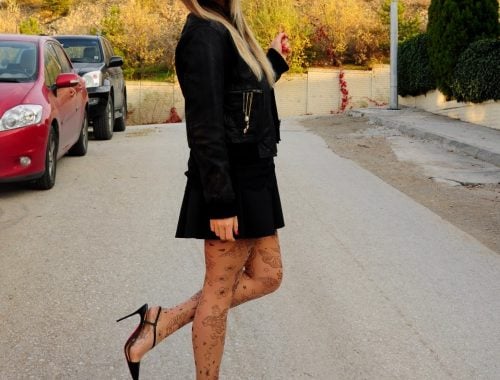 30 December 2014