Celebrating Breast Cancer Awareness Month With Anita Care
26 October 2016
The month of October has always been synonymous with a few things: Halloween, cold autumn nights, the leaves changing and falling from the trees in a husk of orange and yellow… but what some don't know, is that October is also Breast Cancer awareness month. This is, a month to speak out about breast cancer, celebrate with cancer survivors, join fundraising campaigns, support charities and scientists fighting against this disease and, why not, remembering those who, sadly, have lost the battle against breast cancer.
A pink ribbon for Breast Cancer Awareness
It is almost a guarantee that someone you know or a relative of a friend has been affected by some form of cancer. It is a horrible disease that has affected millions of lives, and Breast Cancer is one of the most destructive forms. So this month, we at UK Lingerie want to raise awareness of this disease, and how those affected by Breast Cancer. As you know, prevention is vital. When was your last mammography screening or mammogram? How long has it been since you didn't check your breast yourself at home?
Breast Cancer Now's app for breast check is a must-have app for any women. Checking your breast regularly is very important. Numbers speak by themselves: If we all checked our breasts regularly, 1,500 lives could be saved every year, according to Breast Cancer Now. So, do it! Before going to be, before brushing your teeth, before taking a shower. It only takes a few minutes.
Buying Lingerie After A Mastectomy
The Anita Care Fleur Mastectomy Bra (£60) is sexy and feminine
Many women struggle to feel sexy and confident after going through a mastectomy. Re-incorporating to your normal life, being active and finding the right lingerie for you can boost your mood and help you recover your confidence. After all, there isn't anything sexier than a self-confident woman! A mastectomy bra is typically worn after breast surgery. Mastectomy bras provide comfort that normal bras do not. They contain pockets for the prosthesis to be inserted if needed, and they are made from very soft materials so that the bra does not rub sensitive breast tissue.
The Anita Care Tonya Bra (£42) is a very comfortable T-Shirt bra
All the Anita Care bras provide both comfort and support in the breast, tailored specifically to those going through breast surgery recently. Many women use a prosthesis, which can easily be inserted into a mastectomy bra to give the shape of the breast. The Anita Pure Fresh Silicone Prosthetic can help women who have gone through extensive mastectomy recover the symmetry in the breast area, which is important for clothes fitting. If you prefer foam or gel to silicone, take a look at the Braza breast pads in our sister site UKSwimwear.com.
Do you want to see other styles? Visit our website to take a close look at our post-mastectomy lingerie and don't hesitate to contact us if you need extra help. We are always happy to offer personal advice!
You May Also Like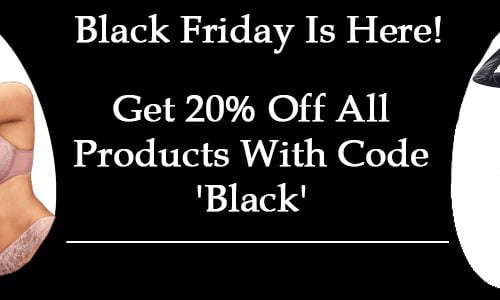 27 November 2020
20 June 2011