Is it Possible for Curvy Women to Wear Seamless Tights?
27 October 2016
In the past, curvy women often struggled to find the perfect pair of tights for them. Wide in the hips, comfortable in the waistband and the thighs… finding that perfect fit is even more difficult when you are curvy. Variety wasn't a feature in plus size tights neither, so curvy girls often ended up in baggy or little comfortable opaque tights all year round.
Are There Any Good-Fitting Seamless Tights for Plus Size?
Have you ever tried seamless tights before? The way seamless tights are manufactured, in a whole piece, only allowed seamless tights to have a small waistband attached to it. The so-called banana tights weren't a convenient option for larger sizes. A low and narrow waist isn't the best fit for curvy women, as Dawn Barber, Managing Director of UK Tights has experienced herself.
As you know, I'm a plus size lady myself and I've never been able to wear this kind of product before now. I wouldn't even entertain the idea of trying a pair as I knew they wouldn't fit me.

Dawn Barber, founder and MD of UKTights.com
Everything has changed now. Legwear International has implemented a different knitting technique that allows them to manufacture their seamless tights in a range of sizes, with wide comfortable waistbands. Besides totally seamless tights and being available in four sizes, the Couture Ultimates tights by Legwear International are ladder proof and have leg support. Do you know what this means? The Couture Ultimates are the best seamless tights for plus size! 
Couture Ultimates Sarah Tights, the best 100 denier seamless tights for curvy women
We are not the only ones who say so. You have proved it right. Since the Couture Ultimates were launched just a month ago, we have sold more of the XL than any other size. Besides, customer reviews have been very positive. A pair of seamless tights for plus size had never felt so good!
Goodbye, boring tights. Welcome, Patterned Seamless Tights for Plus Size!
Couture Ultimates Charlotte Tights (£12.5). These beautifully striped seamless tights Dawn's latest fashion crush
As many of you, our MD Dawn Barber also struggled to find patterned tights in her size. So, she always had to wear boring, plain tights as the patterned ones and they never went up to her size. Thankfully, there seven amazing patterns to choose from the Couture Ultimates collection to match your taste. From diamond, geometric patterns, to romantic lace styles, ideal to style in the festive season.
Whether you wear a size UK 16 or UK 20, tall or short, don't wait any longer. You need to give these seamless tights a try and, of course, let us know how good they feel!
You May Also Like
15 September 2011
30 September 2011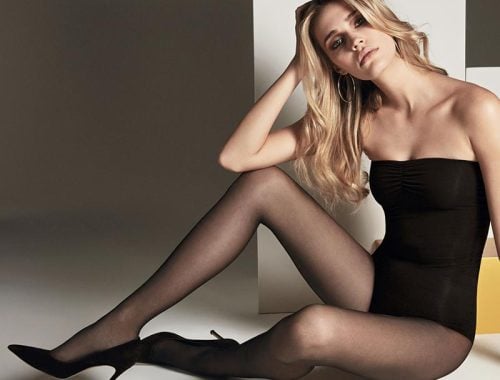 10 January 2019