Dark Academia – The Newest Look In Classic Fashion
17 December 2020
Dark Academia is a term we have become very quickly acquainted with over the past year. And it might just be the most interesting new trend in the world of fashion. Thanks to the rise of social media, fashion has fragmented into brand new movements and trends much more rapidly than ever before. One Instagram user can start a new trend in a single picture in a way that no magazine in the past could. As such we have seen some pretty eclectic movements come out of the internet in the past few years.
There have been some truly wonderfully named new movements in this explosion of creativity, like the following. Cottagecore, the trend of dressing in lots of old school rural attire and country outfits, decorating your home with William Morris, and doing your own arts and crafts. Or how about the similar but distinct new movement called Grandmacore. This is where the fashionista goes for hand-knitted jumpers that are a little bit garish and very much wholesome, antique jewellery. All the nostalgic elements of your Grandparent's house!
But our absolute favourite aesthetic has to be Dark Academia. What is it exactly? Imagine the inter-war period between the 1910s and 1940s. You're in a New England college town in Autumn, with an old library as the backdrop. Old European university towns are also ripe for the Dark Academia look, with Gothic cathedrals and slightly hectic old book shops being the strongest flavour of this backdrop we can imagine.
The fashion of these scenes is Dark Academia in a nutshell. Lots of tweeds and houndsteeth, chocolate brown and moss green shades. Big rimmed glasses, berets, court shoes, and leather satchels are all at the heart of this aesthetic. If you want some examples of what to go for, then try the film 'Dead Poets Society'.
So now to the main concern we have here at UK Tights. What is the best legwear to chose for this look? You are in luck actually, as these very strong and identifiable aesthetics often give you something definite to look for. We would suggest houndstooth, marl, or even plaid. Go for dark browns, slate grey, mossy green, or maybe a dark berry red or two. Pair all of this with tweed, mohair, high skirts, and blazers for the single most interesting and nostalgic aesthetic of the year.
You May Also Like
26 August 2014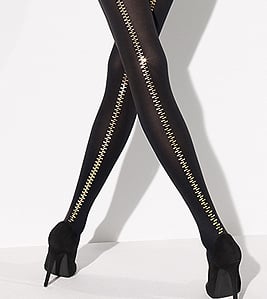 29 October 2014