Leg Wear Looks From The Met Gala 2023
4 May 2023
The Met Gala 2023 has recently concluded. As usual, it showcased an awe-inspiring exhibition of lavishness in fashion. For those unfamiliar with this yearly extravaganza, it is widely regarded as the most inventive evening in the fashion calendar. Formerly referred to as the Costume Institute Gala, the Met Gala is a fundraising occasion aimed at supporting the Costume Institute, a department of New York's Metropolitan Museum of Art. Names from diverse fields like art and music and politics and film all convene annually to engage in this yearly ritual. This breathtaking affair demonstrates their ingenuity and elegance. As it is a charitable function, attendees opt for attention-grabbing attire. But of course, we are interested in the leg wear looks you might be inspired to try thanks to this event. Although the actual leg wear on display was less obvious, there are a few looks that might go well with the addition of a pair of tights, that we wanted to point out. So let's take a look at them.
Amber Valletta
Amber Valletta at Met Gala 2023 sported a stunning ball gown. For something like this, only the most ultra sheer tights will do. You want the leg to be seen under the sheer fabric of the dress. So go for tights under 5 denier to make sure that the leg is not squandered in a dress this stunning.
Margaret Qualley
This is a versatile look, and we really love this for its ability to suit anything. It is the "Little Black Dress" one of the staples of formal wear. The LBD can suit patterns or plain tights. It can be sheer or a little thicker with a semi-opaque. But this piece specifically is very lacy. As such, you should go for exactly that. We recommend lace tights for a look that matches this, preferably a slightly sparse design.
Kendall Jenner
Black with sequins and tall boots? This is a very daring look from Kendall Jenner for the Met Gala 2023. We are going to take a small break from recommended leg wear here. Instead we want to recommend the outfit itself. If you want something like this, then either go for a shiny black outfit, or we would recommend a black bodysuit. Specifically, the high neck and the total black out look of this outfit puts us in mind of the Wolford Colorado String Body.
Kylie Jenner
Two sisters, with two very different looks. Kyle Jenner sports a dramatic red dress with side slit at the Met Gala 2023. This look is equally as daring, but for different reasons. We have a stunner of a design here, with some of the most classic elements of the entire evening. It is a Hollywood starlet look, for sure. Dramatic and bold beyond belief. For something like this, there is only one option. Do not squander that side slit. Make use of the old school cool of a dress like this and wear a pair of backseam stockings. This will mean the welt is on display, which is a controversial choice. But in the right setting, showing a little of the stocking top means the sexiness of the look is maximised.
Kim Kardashian
There is a little dose of sibling rivalry in our last two looks. But both of those two have to acknowledge that their big sister Kim has been doing this for a lot longer and knows how to steal the thunder. She looked, as always, stunning beyond belief. With ivory and white as the primary colours, it can be hard to pair, however. If you are wearing white or lighter colours, then you don't want to overpower it. Avoid black tights, and go for something like nude tights or matt tights. Matt tights will allow your legs to appear blemish free and not clash with your outfit.
Priyanka Chopra
This is another classic starlet outfit. It also features the split that Ms Jenner sported, but in a more versatile black. The best option in this case is something that matches and compliments, not contrasts. A pair of lace top hold ups, very smart and without too much flare. This adds a touch of floral flare to the leg, but only a touch. It also allows the simplicity and minimalism of your dress to shine through.
Lily Collins
Lily Collins has already solved the puzzle for us. A pair of sheer black tights was always the right answer for an outfit like this. And what an outfit. A white bustier, with a central plunge, and puff shoulders. This is powerful enough, but then a billowing sheer skirt that gives Ms Collins a Cinderella charm. If you have plenty of sheer material, like sheer taffeta, then go for a plain pair of black tights and mostly likely nothing else.
Jenna Ortega
Gothic schoolgirl is a look that has been coming back into style recently. And Jenna Ortega, starring as Wednesday Addams in the recent Netflix show, is doing everything in her power to make it even more popular. She has also settled the debate on what to wear with the outfit, long before it started. A pair of sheer black knee highs. If you want the youthful and moody look of Wednesday or a that of a Goth Girl, then a pair of these should do nicely.
Jennie
At this point, we feel like we are cheating a bit. South Korean singer Jennie wears black opaque tights with a white pleated dress, and black sash and gloves. It is a stunning but simplistic Karl Lagerfeld inspired look and it is arrestingly beautiful. Opaques may not be the right suggestion for this time of year, depending on where you live. But we would suggest semi-opaque tights, somewhere between 40 or 50 denier, for a look like this.
Cara Delevingne
Cara Delevigne never ceases to surprise us with how stunning and show stealing she can be. This look, like everything at the Met Gala this year, is a Lagerfeld inspired piece. The white and black palette is one of the most iconic parts of the German designer's work. So all the celebrities, no matter who they are wearing, have chosen this scheme. But it is the leather items that Cara Delevingne is wearing that we are most interested in. They are part hold ups, part footless leggings, part cuisse and greave. The best way to imitate these gorgeous and stunning accessories is a pair of faux leather leggings. But if you want the hold up part of the design specifically, then we would recommend the Miss O Gloss Opaque Hold Ups.
There are plenty of other looks we could talk about from the Met Gala 2023. But there are simply too many for one post, so here our list of favourite's end. And what about all the great outfits that don't feature leg wear specifically? Check out this post for more information on the general fashion pieces that were seen at the gala.
You May Also Like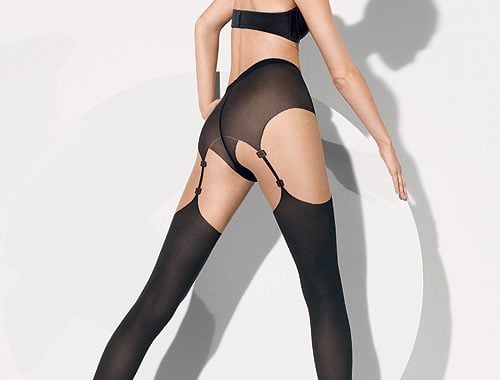 31 October 2014
6 September 2011