Discover the Top Leggings for 2019 Spring-Summer season
10 April 2019
Weather in spring often changes unexpectedly. A typical spring day stars with some rain, only to let the sunshine make its appearance around noon. This is why your spring wardrobe should be ideal for inclement weather. Your outfit should be able to change with the weather. The right legwear can save the day. Why do you think we suggest you wear leggings for 2019 spring-summer season?
Why you need to wear leggings for 2019 Spring-Summer
It doesn't matter how you choose to wear your leggings, the material these are made of or, even the colour. Red leggings, green leggings, black and white leggings… and, of course, the mighty black leggings. Spring 2019 is the season to wear leggings like a celebrity. You don't have to be an Instagram star in order to master the look. Keep reading to discover what are the key 2019 leggings styles you should be wearing this spring and our favourite styles, starting with these amazing vegan leather leggings, which are…
1. Wolford Estella Leggings
Much more than a classic pair of leather look leggings. The Wolford Estella Leggings are THE Wolford leggings. As comfortable as every other Wolford leg style, with a smart and chic finish. The best? At the moment of publishing this post, they are £100 Off! Unbelievable, right?
How should I wear these Wolford leggings?
Wear these vegan leather leggings with heels, like the picture, or with heeled sandals, for a seductive look. Pair them with a white shirt and a smart blazer for a sophisticated work look. Or, for a more romantic look, wear them with a lace top. Skipping the high heels? Try out these sexy black leggings with metallic trainers and an oversized blazer. So chic!
2. Jonathan Aston Sporty Luxe Leggings
Do you remember we told you about these leggings in our post about creating a capsule wardrobe with leggings? Jonathan Aston has some amazing leggings, but their Sporty Luxe Leggings are our favourite ones. We only have a few pairs left, so hurry up! We love that sparkle side stripe, with makes your legs look longer.
How to wear these trendy leggings?
Just like the leggings before, these trendy leggings are great to party in style or to go shopping in a casual look, paired with black trainers. We'd go for simple footwear: one colour, matt finish, no prints. We don't want your trainer to steal the magic from these leggings! Needless to say, they are ultra comfortable, too.
3. Giulia Seamfree Panty Leggings
These are the essential pair of black leggings your wardrobe is calling for. Not only plain leggings are a must-have in everyone's spring wardrobe, but, we'd dare to say, the best leggings for 2019 Spring Summer. Being only £14.99, these Giulia essential leggings are perfect to pack with you for a short break or a musical festival. Utterly comfy, with a smooth finish and a seamless brief. You won't want to take them off.
Other amazing leggings you have to try!
Now that you know what are our top leggings for 2019 spring summer, tell us. Will these styles be in your wish-list next time buy leggings?
You May Also Like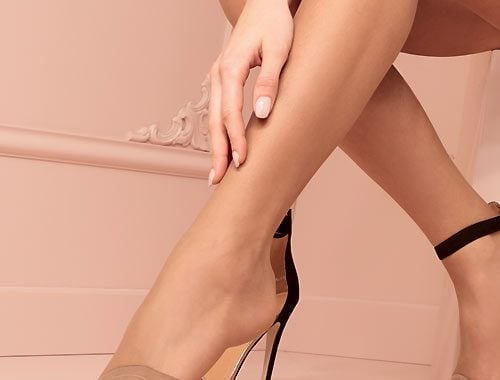 10 July 2017
16 June 2016