March of the Lace-Clad Legs
27 September 2011
It seems that everything we've ever told you about Pierre Mantoux was a lie!
Yes, all this talk of master hosiery designers carefully selected a range each season is a whole lot of hogwash! No great balance of eclectic styles existed this season, they've given into their animal instincts, picked the most popular trend of the season and are now running circles around everyone else who might attempt to design their own.
Lace tights!
That's our spearhead, our vanguard, our all-consuming goal this season, they have said to themselves. It seems to be paying off. Take a look at some of the newest Pierre Mantoux Lace Tights below.
Click each picture to see more: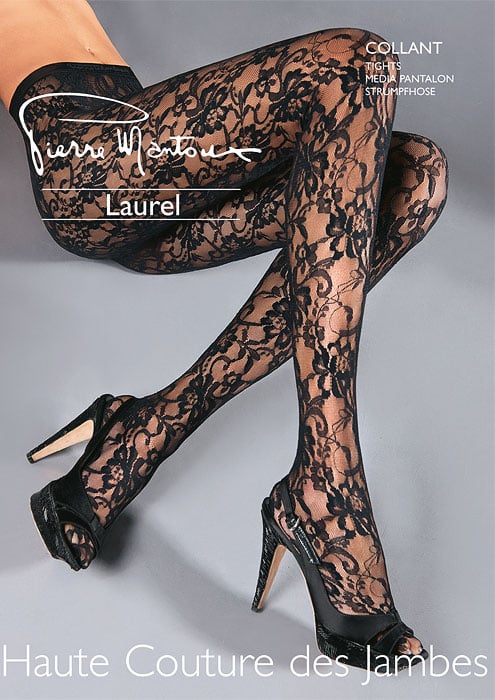 Laurel is a fine and fitting name for these lace tights. A laurel wreath has always been a symbol of majesty and character. We're fairly certain that naming one of your products "Laurel" is your way of saying you have the monopoly on majesty. A bold claim for any designer to make, but remember, it's Pierre Mantoux and "bold" is nothing they're unfamiliar with.
We have a thing for Italian hosiery designer
Now we don't like to speak ill about any of our brands, especially since they tend to be so sweet to us, but our Italian designers have this nagging problem that never seems to abate. They name their products as if they were women, which is fine, but they always settle with an odd choice of name.
Ethel, how… interesting! We've had a Brenda, a Doris and once even and Edwina. Joking, we didn't have an Edwina, but we did once have one rather unfortunately named after an unpleasant bodily function. It got changed at the last minute because of our desperate pleas.
We understand where this comes from. Some names remain popular in Italy while they go out of fashion elsewhere. We quite fortunate, really. Sometimes are quaint little flaw like that ends up highlighting everything that's good about these lace tights. Just take a look at the picture and see for yourself!
Yes, it's still lace, but it is something a little different too. Bea is like something from a Dali painting. An intricate system of not quite coherent shapes and curves. What are they? Fans? Snakes? We don't know exactly, but they have a mesmerising visual effect.
Bea is probably the favourite of these three designs amongst the people we've asked. It's not the most orthodox example of lace tights, but that's what's appealing about it. Pierre Mantoux has plenty more designs to dig into this season, plenty of them are lace, but there's a healthy dose of other designs too. Take a look and then tell us what you think.
You May Also Like
1 October 2010
10 October 2015