Our Favourite Leg Wear Looks From The Met Gala 2022
4 May 2022
The Met Gala. A time of great excitement and greater confusion for us here at UK Tights. We love the looks, don't get us wrong, but some can be quite exotic. Others, however, are timeless pieces too, so there is always something to feast the eye on, no matter your preference. Each Met Gala has a theme, and this year's was the Gilded Age. That is the period in the late 1800s where the United States enjoyed a great boom and the art, architecture, and fashion was lavish beyond belief. We have picked out three great looks from the evening that we love, and we think you will too. Of course, we have an eye on the leg wear, as always.
Kate Moss, The Met Gala Queen
A fashion blog covering a Kate Moss outfit? Colour us shocked. Whenever she turns up at a location, it is always in something eye catching and glam. She is a style icon of our time, after all. And she has returned this weekend for the most auspicious occasion on the fashion calendar. And she was the picture of class and sophistication. We adore Kate Moss' all black ball gown, and of course we zoned in on her black sheer tights. We can tell form the cut of the dress that there is no lace top, so we can be sure it is tights she donned. Not too in keeping with the theme as tights are more modern. But this is Kate Moss we are talking about. If she wants to add a little of the modern and the contemporary in the mix, then it is bound to be a good match. They are classy, elegant, timeless, and perfectly suited to the occasion. We expect nothing else from perhaps the greatest name in British modelling of the last 30 years. See our sheer tights range here.
Bella Hadid, A Daring And Devilish Look
Another all black and breathtaking number, by another model that seemingly cannot help but be perfectly dressed. Bella Hadid is a true superstar of the current modelling scene. Arrestingly beautiful, tasteful to every detail, effortlessly pulling off every look, and all round spectacular. She has very daringly donned a leather basque and decked herself in heaps and waves of lace. Lace gloves, a lace and sequinned sarong, and of course lace tights. If there was one thing that is red carpet ready to the same calibre as black sheer tights, it would be black lace tights. As we mentioned above, tights are more contemporary, but it was the guests who were dressing up according to a theme, not the rest of us. And most designers release lace tights before stockings, so the variety is there. Get a similar look yourself with our lace tights range, right here.
Hailey Bieber, Elegant Evening Wear Incarnate
A complete contrast to our other picks above with the white satin gown and faux-fur cape, but every bit as breathtaking. Or should we say a breath of fresh air? The Met Gala is famous for its wild looks and dizzying and bold looks. Hailey Bieber is radiant in this outfit, and a simple and elegant red carpet look that speaks louder than the most chaotic designs of the evening. We adore this "less is more" look, so let's see what we can do to recreate it. As the Gala had the theme of the classic era of Hollywood, we suggest a classic item of leg wear too. This period would still have been all about stockings. Backseam stockings to be precise. Although many guests wore mid-century costume, the theme is the Gilded Age, and at that time, they would have strictly worn seams. See our seamed stockings range here.
You May Also Like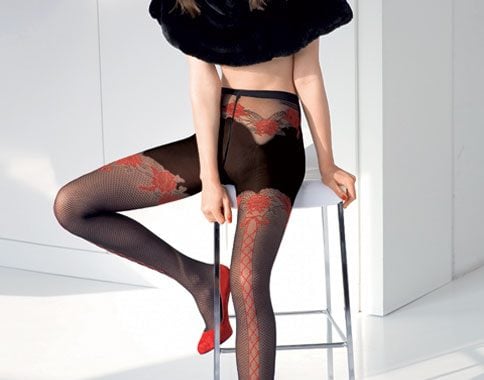 23 August 2011