Ten Good Reasons to Wear Shapewear
16 August 2019
We believe that every woman, young or not so young, slim or not so slim should invest in some great shapewear. Here are a few reasons why we've come to this conclusion. We have come up with ten good reasons to wear shapewear, but we are sure there are more than ten! If you've ever been in doubt about shapewear, this post will help you decide on what shapewear style you should purchase at UK Lingerie.
1. Shapewear can smooth your curves up
Shapewear can give you a great silhouette. It can make you look slimmer and you can wear snugger fitting clothes without having the lumps and bumps that we all dislike.
2. Shapewear can be a visible panty line solution
The last thing we want is a VPL. The visible panty line! Nothing looks worse when wearing close-fitting garments than showing off your pants. There are a great many different styles of shapewear now, such as shorts, and high waisted laser-cut panties that are totally invisible under clothing. Perfect no-VPL solution!
3. Shapewear can make a huge difference when buying a new outfit
When you go shopping for that gorgeous outfit, that slinky little number that you must have for Saturday night, or even that amazing wedding dress that you know you're going to look sensational in, you should wear shapewear.
It's always best to be wearing shapewear when you go to try things on for one reason. Shapewear will it make that dress look and feel better. Believe it or not, it can make a difference in what size you buy.
4. Celebrities wear shapewear all the time under their clothes
There are a great number of celebrities who love their shapewear and endorse many different styles and brands. If it's fans of shapewear that you're looking to read about, look no further.
On the one hand, you have the regular ladies who are at the forefront of fashion. On the other hand, most of the celebrities you follow, from Kim Kardashian and Kylie Jenner to Blake Lively, Emily Blunt, Gwyneth Paltrow or Oprah. Just to say a few names, although it's pretty much every celebrity out there. These people wouldn't dream of leaving the house without some kind of shapewear on.
5. Shapewear is ideal for all sizes and shapes
There are people who think "I'm really slender and don't need shapewear". However, it's not just about holding your tummy in or giving you a slimmer waistline. Shapewear helps to smooth things out beautifully and enables your clothing to hang properly without snagging on your underwear. This is the reason why we always say that shapewear is ideal no matter your size or your size.
6. Shapewear doesn't have to be ugly
Don't be put off thinking that shapewear is all big knickers and nothing sexy about it. This really isn't true and ladies like Bridget Jones did nothing for the sales of shapewear. These days there are some great pieces if you know where to look. Believe us. When you try it, you'll wonder how you ever lived without it.
7. There's much more than shaping briefs out there
Shapewear isn't just about pants. In fact, there are many different items now to buy in the shapewear range these days. You have the sexy lace basques, the smoothing vest tops or the amazing slip dresses. Shapewear can feel light as a feather and give a totally smooth look when you're wearing a close-fitting knitted dress.
8. You don't always need strong shapewear
You can purchase different kinds of shapewear with light, medium or firm control. You should choose the right level of support for you (here you have a Spanx cheat sheet we did if it helps).
If you're going for the firmer control side of things, this can help considerably with your posture and give you great support to the spine. Thus, making you look taller and slenderer. Light support shapewear, on the other hand, can be worn like regular underwear on an everyday basis. Good quality lightweight shapewear feels like a second skin.
9. Shapewear for pregnant women? Yes, but not for the reasons you may thing…
If you're expecting a baby, you should know of the benefits of wearing shapewear. Pregnancy shapewear has nothing to do with concealing the bump or make the mum-to-be slimmer. That's would be simply wrong. In this case, shapewear help with support for the back, which sometimes aches as the baby bump grows. Believe us, you don't want anything too tight when you're pregnant, but you do want something that can help you carry that bump around for nine months. Maternity shapewear can be a good ally.
10. Shapewear can give you a confidence boost!
In our opinion, shapewear helps you to feel more confident. It allows you to walk around feeling more confident. Forget all about those little insecurities, lumps and bumps. Nothing feels better than feeling good about yourself!
Investing in the right shapewear
Now that you have read our list of ten good reasons to wear shapewear, it's time you see for yourself how the right shapewear can make a difference in your outfit. It's time to invest in some great shapewear and start to look and feel your best. What are you waiting for?
You May Also Like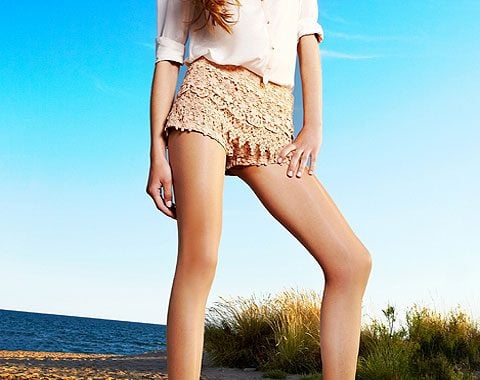 21 June 2013
11 October 2013