(S)exercize By Kylie Minogue Feat. Wolford
11 April 2014
Kylie's new video for the track (S)exercize is out and it's incredible!
Ms Minogue has been producing wonderful music and iconic videos since the '80s but this one reaches a new level of visual mastery. It's charged with sensuality and passion. If you weren't told before you watched it, you'd still know straight away it was a Kylie Minogue video.
It really is quite beautiful, although we will say this; The displays of athleticism do have the effect of making you feel somewhat out of steam.
Like any good piece of videography, the people responsible for this video have brought beauty and quality to everything they touch. The lighting is low and seductive, the choreography is fluid an poised and the wardrobe is, of course, stylish and accentuating.
Everything beyond the shoes in the video is made by Wolford. The various body slips are all from their range and yet the thing that our eyes picked up first and foremost was their beautiful Twenties Tights. Kyle and all her dancers are wearing the Wolford Twenties Tights. A beautiful throwback to the Jazz Era and an attempt to revive the sophisticated spirit of the daring fishnet.
Kylie Minogue is doing the same, melding the modern party spirit of fishnets with the art of seduction that they once represented. It is stylish and sexy all at the same time. Ms Minogue has always been an expert at this, standing as both a sex symbol and a role model to young women everywhere.
Do you know who else wore these fishnet tights on stage? Lady Gaga! To bring this perfect balance to your own wardrobe, see Wolford's beautiful range for yourself.
You May Also Like
19 February 2016
2 August 2009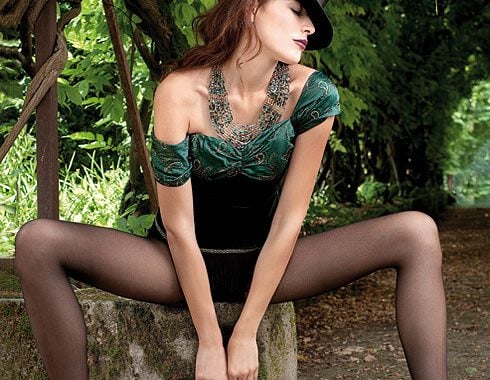 24 February 2011