Tattoo Tights Are The Latest Trend In Hosiery
27 May 2016
A new fashion trend is becoming more and more popular these days and we want you to be the first in knowing it. Tattoo tights are becoming the Summer hit! We had seen tattoo tights in the past seasons, but nothing like this. In the past, tattoo prints were only those products of a hosiery collection for the young public.
This season, however, Trasparenze, Le Bourget and Wolford have included tattoo tights in their fashion ranges. Furthermore, we have included a new brand for amazing tattoo art designs printed on quality hosiery: Stop and Stare. Check out our tattoo tights edit. 
These tattoo tights look amazing with a minimal black dress, but also with denim shorts and trainers for a more casual look. If you want to try something new, these are a great choice for everyone!
These poppy decorated tights have been the best-selling tattoo tights of the season. No wonder why… they are so cute!
Most tattoo designs for sheer tights are inspired in the nature: floral prints, leaves and butterflies, all of them printed over matt sheer tights. They look so real!
Wolford goes minimal with a tiny butterfly design. We have been asked by customers if the tattoo was real or printed in the nylons. If you want a mock tattoo, all you need is one of these tights. Trasparenze also goes for a more sophisticated version of this fashion trend with tattoo embellished hosiery in silver crystals.
Trasparenze Galena Tights (£18.99), Trasparenze Angelo Azzurro Hold Ups (27.99) and Trasparenze White Lady Tights (£20.99).
Do you want to see more? Take a look at our Stop and Stare section for more! 
You May Also Like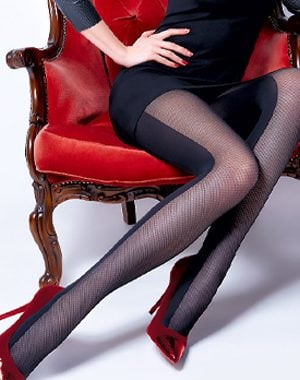 7 October 2020
21 June 2021
3 February 2012