The Fashion Tights Mega Post – Trasparenze Spring/Summer 2011
24 February 2011
Every season, I do a really long post on fashion tights. I write about one brand at a time. Today I'm mega-posting about Trasparenze. Their Spring/Summer range is in our office, it's on the site, and it'll soon be in your basket, no doubt.
But what's Trasparenze got for us? What's their theme ? Are they as fabulous as last season? Which ones should I get? Which ones should I get first?!
Let's take a look.
Tights
Jessy
Jessy, the first fashion tights item you saw on our site. We couldn't have asked for a better opener. A seam is never a bad idea and Trasparenze are master hands at beautiful seams. The sheer, even colouring of this item really shows off Trasparenze's quality.
Angie
Here's our theme! Trasparenze have taken the regal look of the last two Winter seasons and reinvented it. Angie has a waist band and heel in white filigree. It's totally unique and the colours create a perfect visual contrast.
Britney
Britney is a perfect match of our last Winter fashion tights collection and this year's Spring themes. The spots and net pattern are a delicate Spring/Summer variation on the bold Winter patterns, like Gelsey. The whites and blacks aren't too strong, meaning Britney is very versatile. Ideal for wearing outdoors on warmer days.
Becky
These fashion tights inherit last season's beauty and majesty. Their beauty lies in their separation of the complex motifs and the simplistic legs. The designers have kept these two clean and separate. They've made an expert contrast between decorative and minimal. One of my favourites from this portfolio.
Kelli
Trasparenze uses this contrast more than once. Kelli is a sheer, plain design. The stand-out feature, a Rococo ankle tattoo. The striking opposites makes this a visually irresistible item.
Gipsy
Trasparenze never goes entirely minimal. Fishnets are simple by nature, but Trasparenze has decided added an elaborate, bohemian lacy web to these nets. Fashion tights are supposed to break new ground. Trasparenze are the envy of the fashion hosiery world because they keep doing just that.
Ruth
Tradition has its drawbacks. It's hard to appeal to 21st Century wearers with designs from the 1700's. I like that Trasparenze have included something modern. Ruth is minimalist and unstressed. The rich colours and the carefully arranged holes make for an elegant and unobtrusive piece.
Hannah
Hannah appears plain and completely unadorned. But her best features lies in the material. Hannah is made from Tulle. Tulle is a very fine mesh fabric. Its tiny net weave makes it perfect for warm weather and shorter skirts. And with Trasparenze always using the best quality fabrics, Trasparenze's Hannah tights are sure to be pure luxury in feel and fit.
Hold Ups
Britney
Like the Britney Fashion Tights, these hold ups are a subtly contrasting number. Ideal for strolling outdoors, due to their lighter colour scheme, or for evening wear, the bow and classic diamond patterns being very chic.
Angie
Angie has the same filigree heels and perfect back seam as the fashion tights. But the hold ups have taken the brief design from the tights and used it here, perfectly, on the thighs. The imitation pleating and hanging drape effect is utterly decadent. An addition that evolves the whole piece.
Becky
The hold ups suit this pattern perfectly. The contrast in the Becky Fashion Tights is stronger here with the interplay of the bands and the patterns. Both are complex, and being closer together, they work beautifully together, as well as with the nude leg.
Knee Highs
Becky
This design has been the most reinvented item in the collection. Here, it's less ornate. The extra trim has been discarded for a purer look. The design has been made longer and taken up to just below the knee. The effect, a knee-high the stresses the curve of your calf and your delicate ankles at the same time.
Stockings
Jessy
Jessy Stockings follow on from their fashion tights counterpart. But with this item, the fashion tights designer has reinvented it with a simple alteration. The thigh band has been rendered in rich crimson, with very fine black rings drawing the eye and complimenting your legs. I think this piece is Trasparenze's crown jewel this Spring. It's a simple piece, but you can tell it took a great deal to get it just right.
The Result
I think this season's collection of fashion tights is the designer's best yet. I can't find a single design I don't like.
The thing about Trasparenze I find special? They can take from inspiration and still be original. The designs are traditional, regal and majestic. They've also never been seen before. The whole portfolio seems familiar, but you can't deny, it's all so unique.
You May Also Like
21 January 2011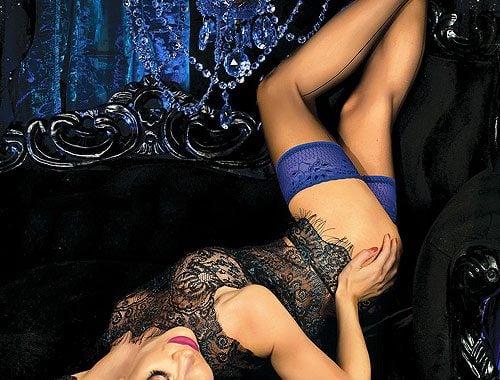 17 April 2020