This Design Belongs in an Art Gallery
16 August 2011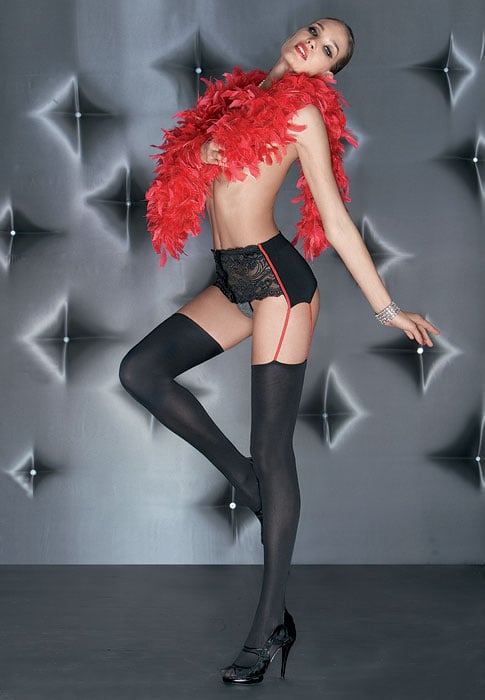 We reject the whole idea of saving the best until last.
Start with a mind blowing opener and don't slow down. Rock 'n' roll!
Trasparenze's first work of majesty is Estelle and this one means business. She has yet to fail at producing gasps and wide-eyed stares in our offices and we suspect few will be immune to her touch.
And seen as how we never save the best, we'll start with the most astounding part of the design. The first thing you notice about these suspender tights (would you call them that?) is the beautifully crafted paisley and lace front panel. This part of the design isn't bordered by anything and covers the whole front of your hips. It's uninterrupted and dominates your field of vision. It sets a playful and sophisticated tone for rest of this piece. Lace has always been the go-to material for sexy and feminine. And as you can guess by the photography, this is what Trasparenze has in mind too.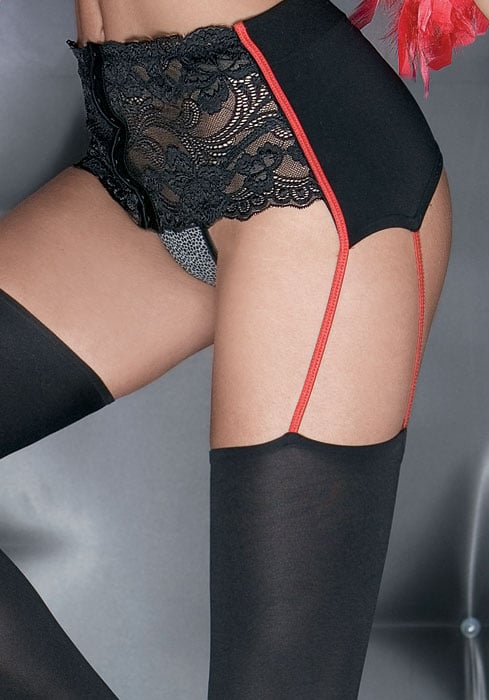 These suspender tights also feature their opening here, in the front. Much more straight forward and no-nonsense than older designs with a back or side fastening.
A designer less dedicated might have just added plain black straps where the lace ends. As we said in our last post, Trasparenze has a much more dedicated man behind the curtain. A classic red trim has been added to the simplest part of the suspender tights. This scarlet lipstick-line keeps the design from becoming too subtle. It gives you a vital and attractive element to your outfit by standing out and being original. A less savvy designer's first impulse might have been to render a more ornate part of the design in red, but Trasparenze's experience tells them different.
But we think the place where Trasparenze has been the cleverest with their use of simplicity and minimalism is with the legs. These suspender tights shun ostentatious lace and trim on their legs. Most manufacturers will try to out do one another with more complex lace. Trasparenze have removed it entirely from their design, meaning admiring gazes are destined for one place!
Imagine an art gallery, with nothing but bare white walls, and a single beautiful masterpiece of colour and shape hanging in the centre. This is what Trasparenze want from their fashion tights. Remove the excess and the most beautiful part, the part we all want to see, will get the attention it deserves.
This is a perfect example of Trasparenze's thinking this season. They want your eyes to be as much a part of their designs' success as your legs are. Everything is visual, everything is breathtaking, nothing is half-hearted.
Tomorrow, we'll look at some more of their pieces, but Trasparenze Estelle Suspender Tights should give you an idea of what you're in for.
If you'd like to see more in tomorrow's post, sing up for free here.
Until tomorrow.
You May Also Like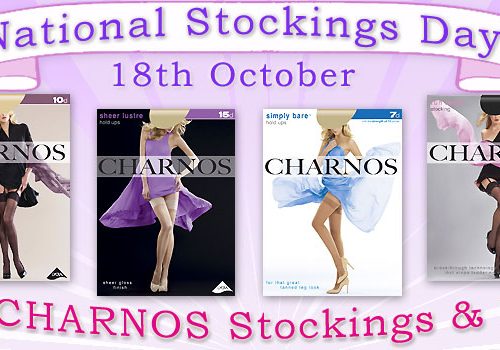 18 October 2013
8 December 2011