Trasparenze AW16 Collection Is Sexier Than Ever
1 September 2016
It's official. We have fallen in love with Trasparenze AW16 fabulous collection! We don't know what is the secret behind Trasparenze's hosiery designs, but they make us fall for them season after season. As many of you know, Trasparenze is one of our largest brands of hosiery. We always try to bring you the largest collection of Trasparenze fashion styles to complete our already quite extent range of Trasparenze essentials. If you love Trasparenze hosiery as much as we do, you need to know this: The Trasparenze AW16 collection is sexier than ever!
Trasparenze Larnaca: The Sensual Mock Over The Knee Effect
Larnaca is the name of one of the sexiest Trasparenze styles this season. We love it because it puts together two very sexy and flattering effects, a lace-up detail and a mock over the knees effect, to create the ultimate pair of fashion tights.
Not a tights person? No worries! Take a look at the Trasparenze Larnaca Hold Ups (£12.99)
Wear it: 
Ideal to wear for a special occasion, a dinner date, a night out… maybe it isn't the best hosiery to style at the office, but we are sure it will get everyone's attention no matter if it's daytime or night time.
Trasparenze Arbil: A Classic Elegant Motif
The nude contrasts with the black of the flat top and the black italic and floral motif to create the lovely Trasparenze Arbil hold ups (£17.99). The Arbil style proves that sometimes less is more, don't you think?
Wear it:
The subtle decoration in the Trasparenze Arbil hold ups and in its tights version seem perfect for any occasion. They upgrade any smart outfit, so you can practically wear them from day to night. Office outfit shorted! After-office outfit? Also shorted! Happy days.
Celebrities all around the world have gone crazy for bodystockings and bodysuits. Do you remember we told you about the comeback of the bodystocking in one of our posts? This catsuit is a marvellous mixture of leather and sheer fabrics. The final result is simply amazing.
Wear it with the Trasparenze Marcel Gloves
It looks like some simple opaque stockings, but it is much more. All the attention in this piece of hosiery has been put in the garter belt, with a lovely lace decoration and a cute bow detail in the back.
Wear it:
Get the look of the picture with the Trasparenze Demi Mask and the Trasparenze Kana Fishnet Gloves, as the picture. 
These are just a part of Trasparenze's new sexy arrivals, but there is much more. Take a browse to our collection and get amazed by their stunning hosiery styles!
You May Also Like
23 December 2013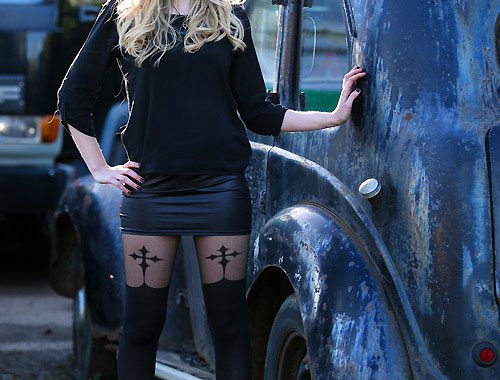 21 October 2016