Why is everyone wearing jeggings this season?
31 October 2018
Have you asked yourself why are jeggings so popular this season? Even though jeggings aren't the ideal formal attire, more and more people seem to be wearing jeggings to work and, of course, to party. Have you also asked yourself if you should be wearing jeggings this season? Because we certainly have! This post has everything there's to know about jeggings.
What are jeggings?
Jeggings is a portmanteau word of leggings and jeans. Jeggings are basically leggings in a denim-like finish. Some jeggings are very elastic jeans, while others only happen to be manufactured in a denim blue to mock the look of traditional jeans. Take the example of the Oroblu Jeggings in the picture above.
What's the difference between jegging and jeans?
Back at the beginning of the Millennia, the skinny leggings became more and more popular. Since skinny jeans were difficult to put on, fashion designers started to increase the elasticity of jeans. Unlike the traditional jeans, jeggings are typically made of cotton or viscose, with a higher percentage of elastane or spandex.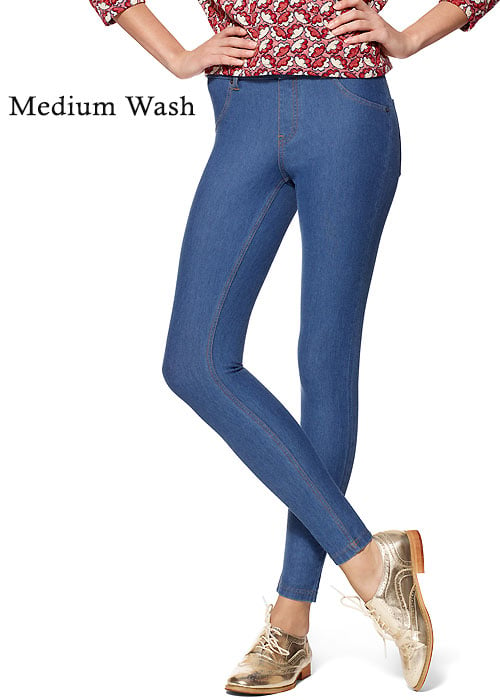 Jeggings may or not have front and back pockets, but usually come with a waistband. Sometimes, jeggings even have front or side zipper details, while jeans don't necessarily have a zip. Bottom-through front jeans are as popular as the zipped ones, but we have never seen any bottom-through jeggings. A pair of skinned jeans is always going to be thicker and less elastic than a pair of jeggings. That's why many people say wearing jeggings feels more comfortable than wearing jeans.
Leggings VS Jeggings: Which is Which?
So, what exactly is the difference between jegging and leggings? There isn't a huge difference between leggings and jeggings. It's more a perception. Wearing jeggings feels just like wearing leggings. The only difference is the finish. If the leggings feel and look like a pair of jeans, then we call them jeggings.
To be fair, most people englobe jeggings inside of a larger category of leggings, that's why we include all jeggings and leggings under the Leggings section in our website.
And what are treggings?
Treggings is a new term, again a portmanteau word of trousers and leggings. Basically, we could describe treggings as leggings that look like trousers. As you can imagine, treggings and jeggings look pretty much alike, except for the denim finish of jeggings. So, if it looks like a pair of trousers (1), feels elastic like leggings (2) and nothing like jeans (3), you have a pair of treggings.
How to wear jeggings:
Wearing jeggings with style is easy peasy. You can wear them just like you'd do with your regular jeans:
With high heels, a blouse and a blazer, for a smart work look (if jeggings and jeans are allowed at your workplace, of course. Some companies have very strict dress code policies).
With ankle and knee-length boots and a shirt. Wear a long fluffy scarf for the perfect Autumn-Winter look and match them with a leather jacket in Spring-Summer.
With trainers: Wearing jeggings with any colour of trainers is actually a celebrities' public secret. Denim blue matches every colour, really, so don't be afraid to get creative. All-black and all-white trainers are a thing at the moment, but so are coloured trainers, both in pale and bright tones.
Now that you know how easy it is to wear your jeggings, all you need to do is to pick your pair from these jeggings and leggings here. Happy shopping!
You May Also Like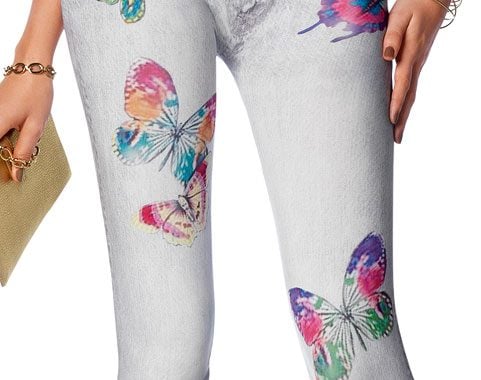 15 February 2012
3 September 2020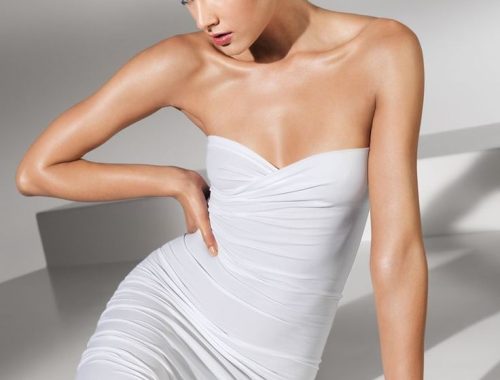 20 October 2014