Wolford Autumn Winter 2018 Preview
18 July 2018
The first items in the Wolford Autumn Winter 2018 collection have arrived and we are ecstatic! We only have a few styles and, yet we are crazy about what's coming soon for the season! As you know, Wolford styles always sell out soon (they especially seem to go first in your size, right?), so we are telling you everything we're loving about them. If you like them as much as we do, don't wait too long to get a pair. They tend to fly off the shelves!
Wolford Autumn Winter 2018 has the most amazing ankle socks!
We love every bit in these cute Wolford ankle highs. What's not to love in the Wolford Amelia Socks after all? The floral print is just lovely and right on the spot, the contrast between black and nude is gorgeous and that self-tying ribbon you can wrap around your legs is so sexy!
Wear your whale fishnet tights like celebrities do:
There are fishnets… and FISHNETS! The second ones, in capital letters, are the ones that steal everyone's attention wherever you go. We mean the kind of the tights celebrities like Beyonce, Katy Perry or Cara Delevingne wear on daily bases. These nude fishnets look good with everything you wear and, that is pretty good for a pair of tights, right?
Christmas in July!
The Wolford Autumn Winter 2018 collection has some amazing embellished socks. These are the first to come to UK Tights. When we saw these elegant socks, we had the feeling that Christmas came earlier this season. These little beauties are stud-embellished and can be worn in two ways, the first being like the one in the picture and, the second, all straight, as if they were knee highs. Both ways look really smart!
Wow! These floral net tights are insanely beautiful!
At UK Tights, we lose it for a pair of floral net tights. These Wolford net tights have stolen our hearts. The combination of a fine net, little diamond patterns and that floral motif make them not only one of the best fashion tights of the season but also one of the most elegant designs we've ever seen.
These here are a little preview of what's to come, but we have more styles already and, of course, there are going to be new styles added every month! So, tell us, what's your favourite item in the Wolford Autumn Winter 2018 collection so far?
You May Also Like
6 June 2018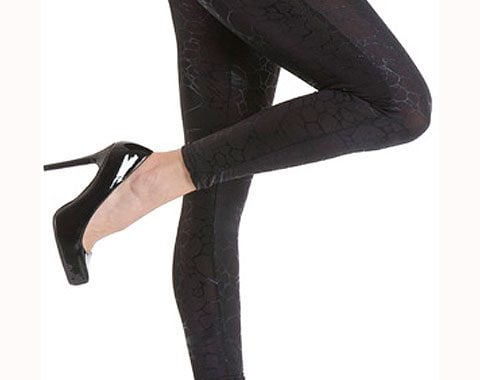 17 November 2011
29 November 2011