Festival Season: The UK Tights' Festival Edit
16 June 2016
The Festival Season is here! Glastonbury Festival, the most well-known music festival in the UK, is only one week ahead. This means it's time to put together the hottest hosiery for the festival season, including the Summer hit: Fishnets! Ready for the UK Tights' Festival Edit?
Fishnets Tights are the Summer's Must-Have Style for the Festival Season!
If there's a must-wear style for the festival season, it's definitely the fishnet tights, as seen on Kylie Jenner in Coachella 2016 Festival. How to wear your fishnets for a festival? 
Wear your fishnets with denim shorts & mini dresses. Go for comfy trainers,  wellies or ankle-high boots for a comfy but chic look!
 Do you Dare to Embrace the Whale Net Trend?
We have seen whale net tights in Charlize Theron, Alexa Chung and Pia Mia in the last weeks. While micro net fishnets and regular fishnets are easier to style in both smart or urban styles, whale net fishnets seem perfect for a total urban look. Isn't that what you want to look like in a festival? Embrace your Punk side with the Silky Scarlet Whale Net Tights (£3.99).
The Perfect Fashion Fishnets to Catch Everyone's Eyes
Silky Scarlet Star Fishnet Tights (£5.99) & Kunert Net Oversized Check Fashion Tights (£15.99)
If you are looking for a distinctive look, try wearing any of these two styles above. Star patterns are walking their way back to fashion, while diamond and geometric prints are very hot at the moment!
Don't forget your Opaques!
Weather in the UK is always unpredictable and you have to be ready for the Summer weather. Pack a pair of opaque tights in case it's rainy or chilly out there. Although black opaque tights are always useful, you can go for some coloured opaques. White, baby pink, sky blue, emerald green and cobalt blue are some of the top colours for opaque tights this season. Alexa Chung, Gwen Stefani and Pixie Geldof have been spotted wearing opaque tights at musicals. If you feel black opaques are too simple for you, you can also go for a pair of lurex tights! 
Over the knee socks
Plain top opaque hold ups
Opaque knee highs (they look ideal with wellies)
Black leather look leggings
You May Also Like
21 August 2012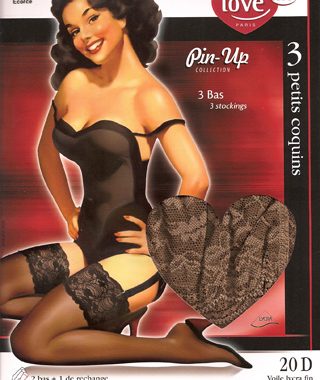 22 September 2010