If we ask you to think of the top fashion trend for Spring Summer 2017,  what would you say? Think of an easy one. Do you have it? Say with us: Fishnets! Hosiery has become more and more relevant for fashion shows in the last years. Celebrities and fashion bloggers have also started to feature fashion hosiery, moving away from the bare leg and the simple black opaques. Fashion tights are hot these days. If you are into fashion, there a trend you can' t miss this season: the fishnets under jeans trend.

Where does this come from?
Well, it all started with a Kardashian…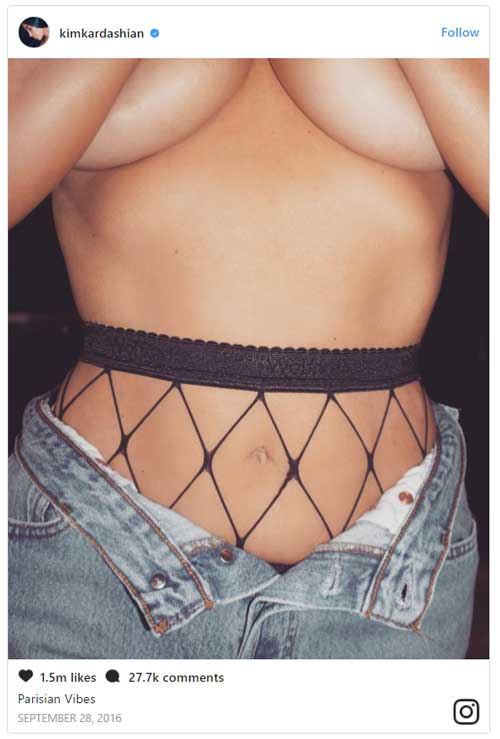 Fishnets had already been out there for a while. It was around two years ago that fishnets moved from the stage to the catwalks. It's 2015. Beyoncé, Lady Gaga and Katy Perry are no longer the only celebrities we can spot wearing fishnets. It's in this year when we spot Bella Hadid and Kate Moss in fishnets and we ask ourselves if fishnets are back into fashion. First it was the time of regular fishnets, then we spotted a rising number of whale fishnets featured in fashion magazines. Time proves us right and, two years later, we can claim that fishnets have become without question the No. 1 trend in hosiery these days.
Kim Kardashian uploaded a picture of her wearing fishnets under tights and people went 'gaga' for this style!
And then, Kim Kardashian decided to shake things up. It was Paris Fashion Week autumn last year. Kim Kardashian wore her beloved Wolford fishnets under her jeans, proving that hosiery can be the centre of attention of your outfit. When Kim shared this look in her Instagram account, people loved it. Some others hated it, of course. One and a half million likes later, it is fair to affirm that Kim Kardashian fishnet look is the top trend of 2017. Who would had said showing your tights' waistband could become cool?
Fishnets Under Jeans: Who Wore It Better?
High-waist fishnets and ankle length ripped jeans, with a matching denim jacket in a urban look. This is how singer and actress Vanessa Hudgens styles her fishnets. We love the look of former Disney channel girl. It seems pretty comfortable and it's easy to steal make yours, as well as practical for those days of spring and summer when it isn't that warm as we hoped.
For a smart version of the fishnets under jeans look, why not trying Kendall Jenner's look? Just like her sisters Kim and Kylie, Kendall is a huge fan of this trend. However, Kendall does it on her own way, this is, matching her fishnets and ripped jeans with a high heels. If you notice, the style of her black fishnets is more classic and jeans seem to have a slim fit, rather than a straight one. If you ask us, we'd say Kendall Jenner wears Wolford Twenties Fishnets Tights, our favourite pair of fishnets whatsoever and one of our best-selling fashion tights.
Give it a Twist: Lace Tights Under Jeans
We always say hosiery upgrades your wardrobe. A pair of fashion tights can completely change an outfit by adding the final touch your outfit need or, sometimes, by driving all the attention to your legs. This second is what Kim Kardashian tried to do in her look above. And she did it so good! There's something special in a pair or lace tulle tights that makes it impossible not to look at them!
Kim Kardashian tights are Chanel, but you can get Kim's lace tights look with these Pierre Mantoux Chanel-inspired lace tights, which are as beautiful and elegant as Chanel ones.