Five Insanely Beautiful Bluebella Lingerie Sets To Love
15 December 2017
Words can't always describe how beautiful is a lingerie collection. Sometimes all the little details we describe don't do justice to the style itself. Even when we have amazing lifestyle pictures to support our product description, pictures and words don't seem to be enough when looking at some styles. Some other times, you look at the pictures and no words are needed. Take the example of this insanely beautiful Bluebella set below. Pure beauty!
Bluebella Karolina is the single most popular style in the Bluebella range and one of our favourites, of course! The model on the left wears matching Karolina bra and Karolina retro brief with attached suspenders, while the model on the right wears the Karolina brief with the stunning Karolina basque. We love the combination of multi-strapped and sheer mesh. It's minimal lingerie with a bondage twist.
Oh-so-sexy!
What is the best thing about Bluebella lingerie?
The best thing about Bluebella lingerie is its price! Briefs start at £12, while bras rank from £30 and £38, which means you can get a lingerie set under £50! This seems even more affordable when you look at the fine fabrics and the luxury finish in Bluebella lingerie sets.
Can you know see why we love Bluebella lingerie so much?
Bluebella Francesca
Another insanely beautiful collection we love is the Francesca range. A multi-strapped bra with a perforated dotty pattern and fine mesh, creating a beautiful geometric-inspired pattern. Ultimate feminine and seductive. The Francesca underwired bra is non-padded, so it adapts to your shape with a flattering uplifting effect.
You can get the whole set of bra, bikini brief and suspender belt for £74, which is a more than reasonable price tag, especially for such high-quality lingerie, we have to say.
What else could we ask for?
Bluebella Marina
Marina is the name of Bluebella's eyelash bra and matching brief. If you wear sizes UK34-38 in cups B to D, to need to dedicate a few minutes of your time to admire this little piece of lingerie. Trust us; you won't regret it.
The highlights of the Bluebella Marina bra are undoubtedly its thick stunning lace straps. They look absolutely stunning and very different from any other lace bra we've seen before, too. So elegant and classy, but, somehow, truly natural. Elegant simplicity is something Bluebella does like no other brand.
The Bluebella Marina bra has a matching thong with lace straps. Altogether they cost £52. Pretty good, right? If you love the look of the lace on the shoulders, check out the Bluebella Marina low back teddy. A unique piece of nightwear we have also fallen for. Maybe not the best piece of nightwear for cold winter days, but surely something to keep in your lingerie drawer for a special celebration, a warm summer night or, who knows, to take with you when travelling abroad in summer.
Bluebella Taylor
Did you know harnesses are one of the top trends in lingerie these days? Just like the bodysuit or the bralettes, we have seen more and more harnesses in lingerie catalogues. Far from its past as signature fetish attire, harnesses are now part of many luxury lingerie collections.
Surely the success of the Fifty Shades trilogy has something to do with the rise of bondage-inspired lingerie. The evolution of harnesses and multi-strapped details go hand-in-hand, as you can read in the post in this fantastic The Lingerie Edit about the top biggest lingerie trends in the last decade.
Everyone is loving Bluebella lingerie collections
Unlike other brands of lingerie, Bluebella has known how to seduce the general public. Bloggers and stylists love it. You just have to look for #Bluebella on social media to see how many people have fallen for the charms of Bluebella lingerie. So have fashion magazines. In fact, Bluebella has been named Lingerie Brand of the year at Drapers awards a few days ago. A well-deserved award, we have to say.
The Bluebella Taylor set of bra, brief and harness on the left picture cost £68, although it is sold individually, so you can always purchase some of the items individually to mix and match other styles you already own.
And last, but not least, one of the most insanely beautiful lingerie styles ever seen…
We had only seen all-black looks until now, there's more than black lingerie in the Bluebella collection. We have just added new red styles, just in time for New Year's Eve (and ahead of Saint Valentine's day, of course), there are the cutest silky PJ set and this stunning collection in the picture above. What to say about the Bluebella Heidi you haven't seen already looking at the picture. Maybe just that: we promise it's as beautiful in reality as in the picture. Is there anything better to say?
So, what's your favourite style?
You May Also Like
28 June 2013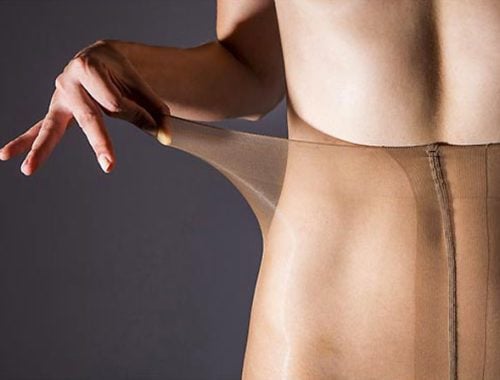 9 September 2016