Italian Cyberpunk and the Fashion Tights of Tomorrow
1 September 2011
It's kind of one thing, but it's also… not.
Oroblu Karmen, it's another one of Italy's magnificent fashion tights for Autumn and Winter of 2011. And it's showing off a trend that's becoming ever more popular. Old designs with a new twist.
It's tartan, right? Well, at first glance it seems to be just that, one of the world's most traditional patterns. Stripes and blocks of colour with heaps of heritage. But if you look closely (or stare at it long enough, whichever) you'll see that there's some very distinct changes that Oroblu have made to this timeless icon.
First, the horizontals.
Normally, tartan would be made up of a series of narrow stitching lines. Each one a variety of different colours and shades. Here, Oroblu have decided they're going to throw this out. The horizontal parts of these fashion tights are made from blocks and stripes, both pictured here in chocolate brown.
This isn't a huge revolution for fashion tights, but it is a very creative take of tradition. The solid swathes of colour are more clean and bold. Much more modern. A collection of different colours and patterns used to be a way of distinguishing your clan from others. It was a point of pride and loyalty.
Now, though, fashion tights are way to express yourself and show people your style. Giving tartan a 21st Century upgrade has given it that vital extra it needed.
The blocks give this piece it's boldness and the stripes look are a sharp, futurist abstract addition.
Second, the verticals.
The most obvious part of this piece's vertical repertoire is the single line that cuts through the centre of the pattern. This is more than just leg lengthening at work here.
The lone chalk line gives your legs a dynamic and animated look, but its the other lashing of colour (pictured here is pink) that we're really interested in.
Normally, a colour scheme like this would be achieves through layering lots of little threads of colour. Traditional tartan looks traditional because of the slow and difficult way all of those coloured threads are sown together. Here Oroblu have given use a digitised and postmodern pinkish explosion. The colour comes from what looks like lasers and beams.
The semi-transparent markings look almost like our inject printer took up performance art. Oroblu have really managed to find a new angel of something so vintage and well-aged. We never would have put money on a fashion designer taking heritage and making their own Cyberpunk interpretation.
Oroblu Karmen Fashion Tights is like something out of Bladerunner. A forward thinking design for the more-than-modern fashionista!
Karmen also comes in brown (first picture), blue (second picture) and black schemes. Tell us which is your favourite here, through Twitter, and be part of the one of fashion's friendliest online communities!
You May Also Like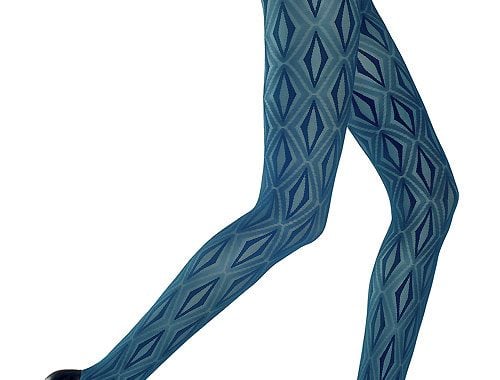 25 August 2017
11 October 2018

27 August 2010