The Valentines Luxury Lingerie Gift List: Under £150
12 February 2018
With Valentine's day getting closer and closer, it's time for a last minute guide for Valentines Luxury lingerie. This is a guide with the finest lingerie and nightwear styles for you to wear (or to give away as a gift!) on Saint Valentine's day.
Unlike our previous Valentine's Gift List (Under £50), this luxury lingerie gift guide doesn't pay much attention to the value of the products. Instead, we'll be looking at those little details that make you fall in love with a lingerie set… and with the person who wears it, of course! Ready to get yourself amazed?
Aubade, No. 1 brand of Valentines Luxury Lingerie
If we talk about Valentines luxury lingerie, we necessarily have to mention Aubade Paris. If you don't know why we insist so much on this French lingerie brand, take a closer look to the Aubade Alee Des Plaisirs bra above. Isn't it the most beautiful piece of lingerie you've ever seen?
It comes with a matching brief, also available to buy at UKLingerie.com, and matching hold ups. Our sister site, UKTights.com, sold out of these lovely sheer hold ups in a few days, but you can still find matching stockings and hold ups at our sister site. They have plenty to choose from!
When you are in love…
When you are in love, you only want the best for your loved one, right? That's why we're talking about one of the best (if not the best) brands of designer lingerie out there.
If you have been following Aubade, you must have already seen they have a few stunning pieces. They don't really do anything wrong, to be fair. They manage to amaze us every time they bring us new collections.
Just look at this lingerie set on the left…
Beautiful, isn't it? Sometimes it's difficult to find the right words to describe something you find truly beautiful; exceptionally gorgeous.
We can try, though. We can say that the Aubade Fleurs de Plaisir collection merges together fine floral lace in a beautiful Ruby tone with smooth floral-printed fabrics.
This range also includes matching briefs: a thong and a cute shortie, which Aubade calls St. Tropez brief. If you are not a big fan of half cups, don't worry for a second, as Aubade has it all covered: the Fleurs De Plaisir Triangle Plunge Bra is perfect for larger cup sizes and as beautiful as the half cup one.
The classic Red Valentine's set
This is one of Aubade's most beautiful styles ever and, being red, it's an obvious choice to wear on St. Valentine's day, right?
Made of fine French lace over a fine mesh, with cute little scalloped trims. The most eye-catching detail in this Aubade bra is the embroidered straps. It's a masterpiece.
There's something different in this bra and in Aubade lingerie in general. Other designer bras look pretty, but not always feel too comfortable. Aubade bras, though, are absolutely smooth at the touch.
You can really feel the quality of the yarns, the well-trimmed ends and the love behind Aubade designs.
And talking about masterpieces…
Why not taking advantage of our Winter Sale?
If you want to make the most of your budget, why not checking out our Winter Lingerie Sale? You'll find lovely lingerie and nightwear and a wide selection of brands. Some of the brands currently on sale are Aubade, Pour Moi, Mimi Holliday, Maison Lejaby, LingaDore and Oroblu, as the seductive lingerie set below.
Get the whole look of Oroblu Temptation Strass collection for £125: Babydoll (£80 £65), mask (£22 £18), gloves (£22 £18) and thong (£30 £24). This is a total save of £29. Not bad, right?
For extra inspiration, check out our Valentine's lingerie edit.
You May Also Like
15 April 2016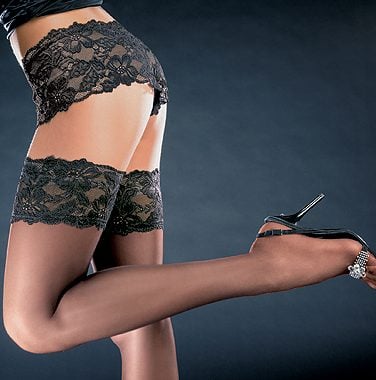 6 December 2013
1 January 2021