Six False Myths About Maternity Tights
17 December 2014
We often get asked by mums-to-be about the best brand for maternity tights. We've realised there are many common misconceptions about what hosiery to wear when you're pregnant. Since festive days are just a few days away, we believe mums-to-be may appreciate seeing answers to the most extended myths about maternity tights.
1. Pregnant women can't wear tights – FALSE
There's no danger in wearing tights when you're pregnant. There's no reason at all not to wear hosiery, as long as you and your baby feel comfortable.
2. Once you are pregnant, you can't wear your regular tights – FALSE
Did you just find out you're expecting? Don't worry, you can still wear your favourite tights as usual. There's nothing wrong in wearing regular tights at the first stages of pregnancy. If you don't have much bump yet and you feel comfy in your tights, it's OK for you to keep wearing them. When your bump grows, you'll soon realise it's time for pregnancy tights.
3. Maternity tights are exactly the same than regular tights – FALSE
It's true that many tights in XL sizes and some Plus Size tights have either a panel or a cotton gusset to better fit. However, only pregnancy tights have the support your belly will need at the next steps of pregnancy. If you look at the picture below you can see how different are the support panels in two pairs of XL tights and maternity tights by Oroblu. While control tights shape your curves, maternity tights support you as you grow.
4. You sweat more on pregnancy tights – FALSE
Most of the yarns used in maternity tights are synthetic to make them easy to expand and give you extra comfort. However, nowadays it's also common find cotton in the composition.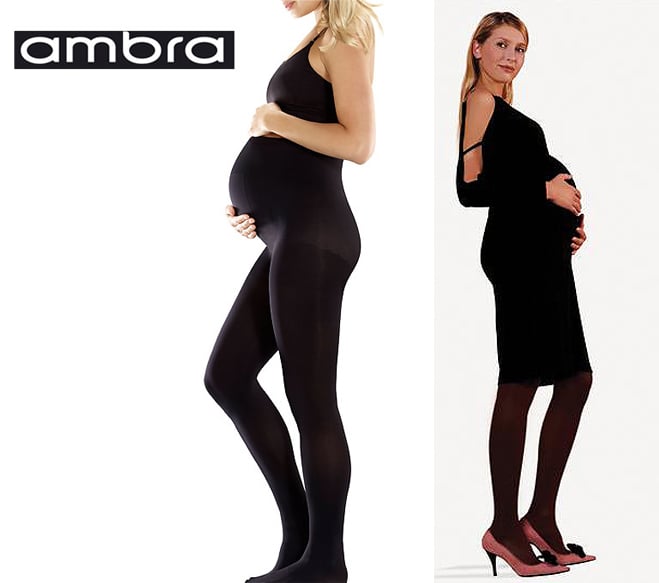 Ambra Opaque Baby Bump Maternity Tights & Trasparenze Perdue 60 Denier Maternity Tights
5. There aren't quality tights for pregnancy – FALSE
We've read many complaints on the Internet about the quality of pregnancy tights from supermarkets… Well, let's just say this: When you pay £3 for a pair of maternity tights, they aren't likely to last as long as some £20 tights. It seems logical, doesn't it? It isn't only a matter of price. Going for higher deniers, opaque tights and reinforced toes or heels can help your tights last longer. If you're looking for quality pregnancy tights, check out these brands: Spanx and Gerbe.
(Spanx Mama Spanx Full Length Tights & Gerbe Duo 40 Maternity Tights)
6. You can't wear hold ups or stockings when you're pregnant – FALSE
You can wear either stockings or hold ups as long as the top band doesn't press your thighs or irritate your skin. Many women suffer from varicose veins during pregnancy. If it happens to you, try wearing either support hold ups or support stockings.
Wolford Individual 10 Medium Support Hold Ups, Gerbe Futura 40 Hold Ups, Kunert Fly & Care 40 Denier Hold Ups and Falke Active Support 20 Hold Ups)
Do you know of any other myths we haven't covered? Tell us and we'll respond to it! Do you have any question about maternity hosiery? Pop us a message or give us a call. We're always happy to help.
You May Also Like
7 November 2012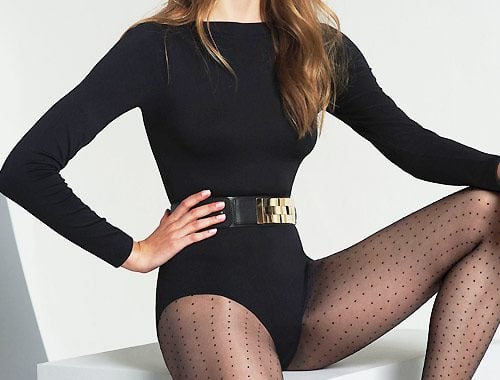 17 January 2020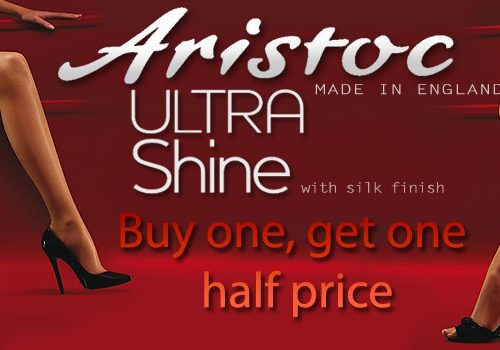 7 August 2013