Our Favourite Leg Styles in Pretty Polly AW18
21 August 2018
It's here and it's amazing! The Pretty Polly AW18 collection is ready-to-buy at UK Tights. Have you decided which styles are you going to make yours this season? With over 40 styles, choosing a single pair isn't an easy task. Luckily, Pretty Polly hosiery is pretty affordable. So, why stopping with one pair? We certainly don't think one pair is enough. Are you a fan of fashion hosiery? If so, you must certainly agree with us. There's no such thing as too many pairs of fashion tights!
It was difficult, but we have chosen our four favourite leg styles in the Pretty Polly AW18 season, from the fishnets you can start wearing now, before Autumn, to the warmer tights you can save for the colder days.
Pretty Polly AW18: The top fashion tights
Looking at these printed tights, one may think it's a Wolford or a Trasparenze style. Pretty Polly doesn't usually create these kinds of sophisticated (yet seductive) leg looks. Well done, Pretty Polly! We are really pleased with this first try, though. The Pretty Polly strapped tights in the picture above are nothing but stunning.
Stripes are a top trend in Autumn Winter 2018
If you have been following our blog in the last years, you may recall we predicted stripes would be a top trend for this season. We had seen striped fabrics in the catwalks more and more over the last seasons. Then, fashion stylists repeatedly requested striped tights from us for their photoshoots. Now they are everywhere and we couldn't be happier with this. Stripes are very flattering!
Three ways to wear stripes, as seen on Pretty Polly AW18:
You can wear bondage-inspired tights with stripes, like the first picture at the top of this post. These tights can upgrade a boring look, but, if you ask us, we think they'd look ideal combined with multi-striped lingerie for an ultra-seductive look.
You can wear minimal-inspired stripe tights, like the side-stripe tights above. This style is really smart, so you can easily wear them to work. At the same time, they are perfect to wear with shorts or a minidress or miniskirt. Side stripe tights make your legs look longer.
You can wear other tights styles with stripes details. Just like these below:
And, of course, the fishnets! Let's not forget about the almighty fishnets.
AW18 trends: Fishnets with a twist!
If you thought Pretty Polly couldn't surprise you with new fishnet styles, think again! These (above and below) are our two favourite fishnet tights in the Pretty Polly AW18 collection. A jazzy pair of footless fishnet tights with the striped ankle detail and these fishnet tights below. Have you noticed the holes in these fishnet tights are different than usual? Like more squared? That's the twist! Don't you love them?
Now that you have seen our four favourite styles in the Pretty Polly AW18 Fashion collection, it's your time to let us know what are your favourite styles. Is it a fishnet style? A pair of lace tights maybe? Just leave a comment below.
You May Also Like
1 October 2020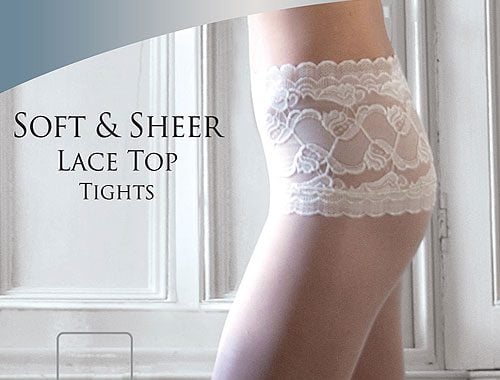 3 May 2013