Right This Way, Sunshine!
5 May 2011
Miss Oroblu has been mentioned a few times over the past few weeks. They naturally get a large slice of the pie in Spring because they're very fashion friendly. But their mother company and namesake, Oroblu, have released quite an impressive range these last few weeks too.
We want to talk about their knee highs today. The range is a very creative and diverse set of new designs.
Oroblu have still included some of their old calling cards, though. The designs are rich and expressive. Some of the knee high have several layers of patterning that build on the complexity of the finished work.
Oroblu has three knee highs to offer this season. We're very excited about seeing what they will have in mind for Winter, which we'll be seeing proposals and first draft images in the next few weeks. But for now, we're going to give you a taste of the kind of designs you'll be seeing a lot of this Summer.
Alice
The Alice Knee High pattern is what you might call abstract. It's a difficult one to pin down, but like any good abstract design, it's suggestive. The slinking and swirling purple lines separate and converge in an ordered fashion, and the regal lace acts as a kind of crown to the motif. The finished look makes us think of a kind of period piece.
Alice is still an abstract pattern though. We wouldn't recommend this for anything too classical or Bohemian. This is more suited to a modern take on old favourites. As it's less adorned than classical items, it'll works very well with simple skirts and dresses. Maybe something like the one in the photograph.
Sofia
This pattern has a mostly fine backdrop, with tiny diamond shapes. It gives the large flowers and vines a very prominent foreground to work with.
But then Oroblu keep the design interesting by breaking off with the finer designer and creating areas of larger diamonds. You can see them quite prominently near the top of the item, just under the lace band.
Each one of these stands out, almost bare against its surroundings. This is a very important part of this item. It's the part that makes the design, and your legs, stand out. It makes onlookers do a double-take and keeps their gaze on you that little bit longer.
Doris
Doris is a much more straightforward design, compared to the rest of the knee highs this season. We think the colour has been well picked. Green is one of the few colours that is versatile enough for Summer and Winter.
But we think the designers have done well in picking a shade with more blue in it. The effect is a cooling and mellow item of leg wear. Perfect for outdoors picnics and Summer parties.
A word on the design. Oroblu are using minute diamonds, similar to the Sofia. On its own, this decoration looks even more subtle and really gives a delicate and unbothered look to any outfit.
Where and When
Oroblu have really impressed us this year. We're very enthusiastic about the new collection and the knee highs are some of the best that have arrived with us so far.
The setting? Outdoor strolls, very lazy afternoons with friends and the aforementioned Summer parties.
If fashionable knee highs don't make you wish it were Summer, the thoughts of a barbecue and Pimm's definitely will!
You May Also Like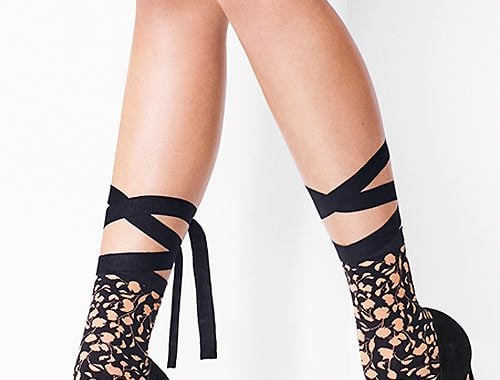 18 July 2018