Spring Summer 2019 Trends to dress your legs
27 February 2019
New season, new ways to rock your legs in gorgeous hosiery! We have found out for you what Spring Summer 2019 Trends you can incorporate to your wardrobe now. If you also cannot wait for any longer to wear your brand new clothes, check out what fashion tights and stockings you should wear. Lace? Nets? Sheer? Keep reading to find out!
Florals prints, the hottest of the SS19 trends
Floral saturation. That's how British Vogue has defined this season, highly inspired by the folk style of the 1970s. Floral prints and patterns are at the centre of all spring summer 2019 trends in fashion. Just like the Trasparenze Bouquet Tights above, which are, for us, the star style in the Trasparenze SS19 collection.
How can I wear floral prints this season?
Spring is calling for floral tights. How can you dress your legs to rock the floral trend?
Lace hosiery: Lace tights are one of those Spring Summer 2019 trends you need to embrace and, of course, it's a trend we are seen in stockings, hold ups, anklets and knee highs. This season, lace hosiery puts together a range of different textures: embroideries, floral lace, mesh panels, large and small florals… just like the Oroblu lace hold ups above or these amazing Trasparenze floral and net hold ups. The most popular colour for floral lace hosiery is white, but bridal-inspired white lace tights are hot, as well.
Crochet tights are as popular as lace tights, although, being thicker, maybe not the best bet for warmer days.
Floral printed and patterned hosiery: One of the best-selling styles in the AW18 season, also available for SS19. From the floral velvety style of the Pierre Mantoux Medea bodystocking, one of our favourite styles in the Autumn season, to new sheer fashion styles, like these lovely tights below.
What to wear for a folk-inspired look
What type of tights would you wear with a folk-inspired look? Feathers, fringes, macramé styles, fisherman waves… these are some of the Spring Summer 2019 trends you cannot miss this season. Wear them ideally with plain matt sheer tights, fishnets (or, even better, micro nets) and lurex tights. You don't want to overdo your folk-inspired look, but your hosiery can add that final touch of sophistication.
What coloured tights should I wear in SS19?
Colour-coordinated looks are a thing this season. Do you remember in the past we mentioned that coloured block was really popular? So, for instance, you'd wear tights matching your bag and everything else in a contrasting colour. The latest colour trend for the season, according to the fashion experts, is matching every garment you wear: dress, jacket, suit, shoes, bags, tights, socks…
Top Spring Summer 2019 colour trends:
All shades of nudes (especially the closest to vanilla and pastel shades, such as pale pink and pale peach).
White. Have you noticed there were many white dresses at the Oscars and the BAFTA this year? Even the Duchess of Cambridge went for a white gown! White is more than a bridal trend in SS19, so it's time to retrieve those bridal stockings in your drawer and give them a second life.
Tutti frutti shades: Sunny Yellow, Emerald Green, Ruby Red, Fuchsia, Orange… bold colours are really popular this season. Luckily, we have them all: the best coloured tights, stockings, hold ups and, of course, socks.
And neon colours! Only for the daring people, though.
Other styles your SS19 should include:
Other styles we've spotted in magazines and catwalks are the 80s-inspired denim and latex looks. Too warm to wear your wet look Trasparenze hold ups in summer? Don't worry! Both denim and latex look great with fishnets, animal print and graphic prints, such as diamonds, stripes and waves. Don't be afraid to be creative with your hosiery. Celebs and fashionistas are wearing tights and sandals these days. So can you!
The comeback of the knee highs in SS19
When we spotted knee highs in Marc Jacobs catwalk last year we made ourselves the question: Are sheer knee highs back to fashion? The answer is: Yes, absolutely! Knee highs are especially hot paired with cycling shorts and knee-length pleated skirts and dresses. Plain sheer knee highs and lurex knee highs seem to be the star styles of the season.
Now that you know what Spring Summer 2019 trends can rock your legs, it's time to upgrade your wardrobe. Tell us, what leg styles are you going to wear first?
You May Also Like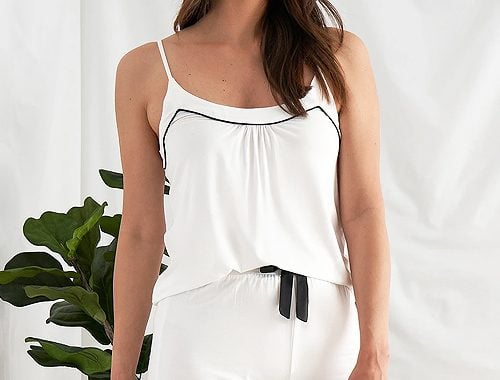 2 February 2022
12 September 2013