Buying Tights for the First Time?
4 September 2018
Few of you may remember the first time you wore tights for the first time. If you started wearing tights as a kid, probably others bought them for you. You may have started wearing hosiery when you approached adulthood. There's a first time for everything; also for buying tights. This blog post puts together a few quick tips to help you go through the process as smooth as possible. So, what is it that you need to know before buying tights for the first time?
Where should I buy tights for the first time?
We all have different experiences about buying tights for the first time (and, obviously, about wearing tights for the first time). We have asked some people on the Internet to share their experiences. Some of this may sound familiar to you, too.
"All I ever knew before was about supermarket tights" is the most common answer.
Unfortunately, the first pair of tights most people wear are the cheap supermarket tights you can get on the high street. This lead to buying the wrong size. Sometimes afraid of asking for advice, one sometimes ends up buying the first pair that looks alright, rather than looking at the features of the particular pair and deciding for the right pair.
The best thing about buying tights online is that you have all the information you may need at hand. Also, if you buy your tights at UK Tights, you may have noticed that we love giving advice on the best styles and the most suitable size for you. We are always available through email, phone or social media.
Ten things about tights you should now
If you're buying tights for the first time, take a few minutes to go through these ten concepts: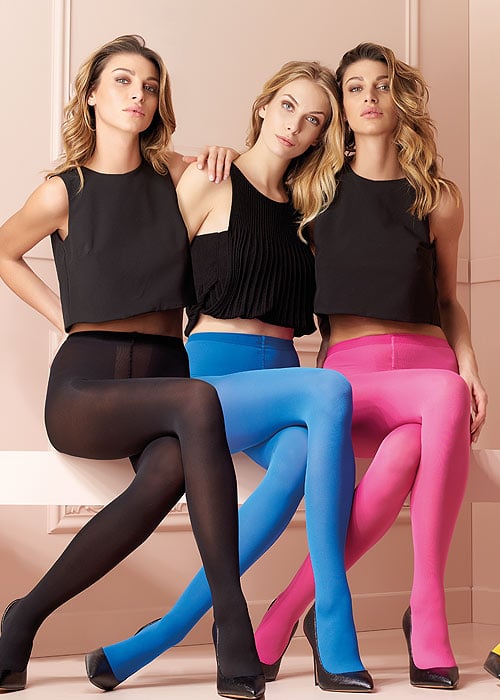 There isn't a single size for tights. Inexpensive tights are often Only size, meaning they would fit from a small to large size. Fitting, however, won't be as accurate (hence the price). If possible, buy tights with different size options. Also, bear in mind that the brands of tights have different sizing charts, which takes us to the next one…
Always check out the size chart of a pair of tights before buying. Size charts are always in the back of the tights package. All our product pages have a size chart so that you can check what tights are best for your height and weight before adding the product to the basket.
When you buy a pair of designer tights, you are paying both for design and comfort. It isn't a brand or a marketing slogan. Designer tights fit much better. Be aware, though, that once you start wearing designer tights, there's no way back! 
All tights have at least a seam! It may sound silly for some of you who are more experienced, but many people ask us why don't we sell tights without any seams in the toes. The reason is… they don't exist! Because of the way tights are manufactured, they have to have a seam under the toes. The 'seamless tights' we do sell are tights without any seams in the brief area, which are ideal to wear under tight clothes.
You have different toe options to go with different kinds of shoes.  If you are going to wear your tights with sandals or peep toes, you can grab a pair of open toe tights. Or can choose to wear sandal toe tights, which don't have any reinforced fabric in the toes.
You can buy ladder-resist tights. These tights won't ladder, but you can still put a hole on them. They are a great option for people wearing tights for the first time. Also remember, the higher the denier, the more difficult would be to ladder them.
If you don't know what is denier, we can sum it up for you: Denier is the weight of your tights' fabric. The higher the denier, the more opaque your tights will look like. So, sheer tights will have a low denier. You can often find the information about denier (eg. 15 den, 60 den…) in the tights packages, but we also highlight this information for you in our product pages. You can also shop by tights denier in our website with the Denier filter.
By the way, sheer to waist doesn't necessarily mean sheer. It means that there is no difference between the fabric on the legs and the brief area. You can have sheer to waist tights in all sorts of deniers.
Support tights and shaping tights are two different things. While support tights have different levels of leg compression to boost blood circulation, shaping tights have tummy control, thigh-shaping, etc. So, shaping tights are tights with built-in shapewear. 
Tights are gender-neutral. Loads of guys also wear tights for a number of reasons. Nowadays, most manufacturers are aware of this trend and, so, they are creating longer styles, as well as larger sizes, to meet everyone's needs.
Do you feel like you need to know more? Check out our Tights Q&A post. 
You May Also Like
20 October 2021
29 November 2011