Six Seductive Trasparenze AW18 Tights And Hold Ups We Swear By
15 August 2018
Trasparenze is a brand of hosiery that doesn't cease to amaze us, season after season, for its seductive tights and Oh-so-sexy hold ups. We weren't surprised to learn that Trasparenze AW18 Tights and Hold Ups are as amazing and ever and, yes, absolutely sexy. Few other brands of hosiery know how you make your legs glow as Trasparenze does.
We love every style in the new Trasparenze Autumn Winter 2018 collection, but these six seductive Trasparenze AW18 Tights and hold ups are sexier than any other style this year. These below are the six most seductive styles that have stolen our hearts this season.
Trasparenze Allen Faux Leather Hold ups
The Trasparenze Allen Hold Ups aren't new this season, but they feel like a brand new product to us. Let us explain why. We received these hold ups last year, more or less around this time of the year. The hold ups came live a Friday and, by Tuesday, we had sold out of them. We tried to re-order them, but we only manage to get a few extra pairs, which, again, sold out in a couple of days, too. We begged Trasparenze for more and they agreed to manufacture them this season once more. So, this year we have ordered loads of them. If you like them, we'd advise you go for them. Don't think it twice. You snooze, you lose!
Trasparenze Penelope Tights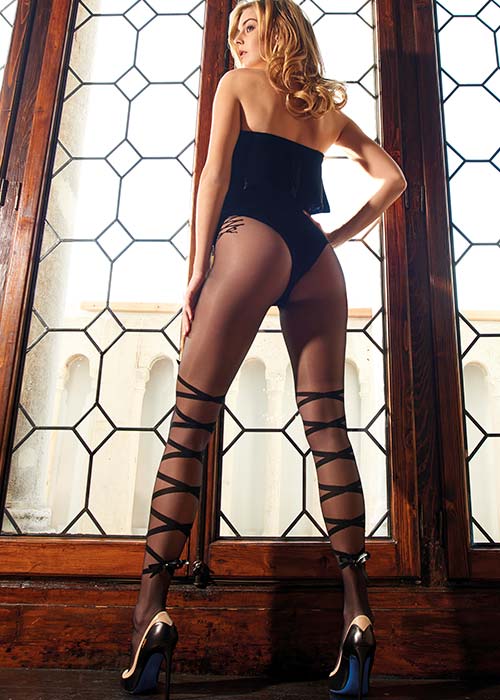 Time stops when we look at the Trasparenze Penelope Fashion Tights. Although at first, you could think of this as a minimal-inspired style, this is one of the most sophisticated leg styles in the Trasparenze AW18 Tights range. The reason? The popularity of sandals and boots that tie all the leg up, as in a mocked-up over the knee style. We swear by these tights!
Trasparenze Eudoro Tights
We've told everything about the popularity of fishnet tights in the last years. You may also remember reading about diamond patterned tights, which are a hot pattern both in Autumn/Winter and Spring/Summer season. The Trasparenze Eudoro tights are a tribute to fishnet hold ups. Having a sheer leg, they are ideal to dress up, too.
Trasparenze Ermes Tights
Is there anything more seductive than a back seamed style? We don't think so. The Trasparenze Ermes Tights are one of the signature looks of Trasparenze AW18 Tights collection. Every year Trasparenze creates different legs styles with similar motifs: A sexy seam, a decorated brief, matching heel decoration and a mocked-up lace hold up look. Season after season, of course, we keep falling in love with Trasparenze's most romantic hosiery.
Trasparenze Circe Hold Ups
The Trasparenze Circe Hold Ups have a simple pretty floral print, similar to a faux tattoo, and a modern ringed band, which we find absolutely sexy. Do you agree with us? These hold ups are elegant, but still really seductive, right? We can't have enough of them!
Trasparenze Orione Tights
Last but not least, we have the lovely Trasparenze Orione Lace Tights. Trasparenze should be proud of having created such an amazing leg style. It's truly unique. First, the fine all over the lace, which is to die for. Then, the thicker calf panel with that ribbon, beautifully tied over the knee. We love it from toes to hips.
What of these six seductive Trasparenze AW18 Tights and Hold ups you like the most? Are you going to treat you with a pair of these before Autumn arrives?
You May Also Like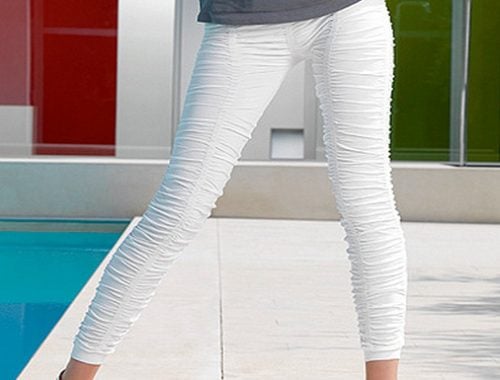 16 February 2011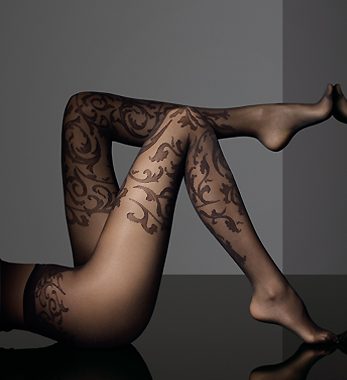 14 January 2010