Something Old, Something New… 7 Steps to Bridal Lingerie Heaven!
28 July 2017
It's that time of year again! All those months (or maybe years) of planning will finally pay off for those lucky brides- and grooms-to-be, now that it's wedding season (at least in the Northern Hemisphere). All over summer, couples from Tin City, Alaska, to Sendai, Japan, and back will be tying the silky, floral, white, pristine, well-orchestrated knot and making the most of the glorious weather. That said, according to 2016 Real Weddings Study released by The Knot – the haven of all things matrimonial – more people than ever (a whopping 16% of couples) are getting married in September or October. So, in preparation for your special day, we've compiled a lingerie hit-list of the 7 steps to bridal lingerie heaven. Enjoy, and congratulations!
1. Briefs and thongs
Coming in at number one is the all-important 'final reveal'. This may be the last thing your betrothed removes before passing out from the excitement, but we think it should take pride of place in your bridal lingerie wardrobe. UK Lingerie offers an incalculably large range of comfortable bridal lingerie, especially when it comes to panties, which span from the beautiful and feminine to the downright bottom-spankingly naughty. You may have noticed, upon even quick inspection of our bridal lingerie collection, that we're not afraid of lace, and nor should you be, especially when it comes to lingerie for brides!
Stunning floral embroideries over tulle: Aubade Wandering Love Shorty
2. Bridal bras
Always the bridesmaid, never the bride… Bras may be second on our list of essential steps to lingerie bliss, but they are by no means the lightweights of your bridal underwear collection. Finding the perfect bra for your big day is fundamental, of course, and that means not only one that suits the neckline, colour and fabric design of your dress, but also one that makes you look ravishing no matter what you're doing, be it cutting the cake or christening the matrimonial bed. Bridal bras require support, comfort and beauty, and the UK Lingerie collection has a plentiful dose of all three.
Aubade is THE brand for fuller-bust bridal bras: Aubade A L'Amour Bra
3. Suspender belts and corsets
Now we're getting somewhere… You've kissed goodnight to Auntie Flo, seen the bridesmaids off to bed and petted the family schnauzer. What's a wedding day without a wedding night? And what's a wedding night without a gorgeous suspender belt and curve-flattering corset. (N.B. It's supposed to be… erm… hugging!) But, of course, these items aren't just for role play and riding crops (cover your eyes, Auntie Flo); they're also about keeping everything in the right place as you're stepping down the aisle and having your first dance (no matter how 'sick' the beats are). And all of UK Lingerie's suspender belts, basques and corsets provide just that: supportive bridal lingerie with a hint of the risqué.
 
Bridal basques and bustiers will look perfect under your gown
4. Babydolls, chemises and robes
A chemise is what you often see the glamour girls of Hollywood sporting in the steamy scenes of a blockbuster drama. It's usually accompanied by a swarthy silken robe or kimono and a dressing table bedecked with Chanel No 5. You may not be an actress, but, what would the world be without a little tease? Weddings are about showing your love to your family and friends – as well as having the perfect floral arrangements, of course – but they are also about sharing a special day with your beloved. And a special night. Luxuriate and titillate in style with UK Lingerie's huge range of bridal babydolls.
And don't forget about the all-important honeymoon. When you're basking in the sweltering heat of a Hawaiian island hotel room, or your own private cabin on an Indonesian beach, who wants to wear anything except a sexy slip and some even sexier bridal briefs? See, we're only thinking of the heat…
5. Bodysuits and slips
Somewhere in between lingerie and shapewear, we find the bodysuit. A body is perfect for the more practical bride, who wants to show off her figure not just to her bedfellow, but also to the rest of the wedding party. It's worn under a shapely dress to keep everything looking streamlined. If you are looking for slightly more support or an hourglass shape, you may want to upgrade it to a slip dress. You don't have to go for the strong supportive ones. Nowadays you have beautiful lightweight shapewear, too, ideal to wear with trumpet mermaid bridal gowns. Whatever you wear under your dress, this is a vital stage in dressing to kill on your big day.
6. Gloves and cuffs
Take a glance in a bridal magazine – as I'm sure you already have – and you'll notice that there are two ranks of wedding looks. The first is what we call 'beautiful'. The second is what we call 'drop-dead, jaw-droppingly gorgeous'. If you're aiming for the latter, it's accessories that make the bride, and we recommend a restrained helping of gloves and cuffs. Why not start with some tasteful gloves for the reception and then swap them out for a pair of kinky cuffs for the boudoir? All those years of playing dress-up are finally paying off…
7. Garters
Ah, the garter! What wedding dress is complete without that final strip of false modesty? We would always recommend getting yourself a pretty, yet sturdy garter belt, since who knows whose teeth are strong enough to gnaw through it…? Promise by Roser Samon is the brand for you. They offer a matching garter and brief set that miraculously combines the coquettish and the beautiful.
Looking for bridal lingerie inspiration? Sit down, relax, read over this post and picture yourself wearing our beautiful lingerie in your wedding day.
You May Also Like
17 May 2013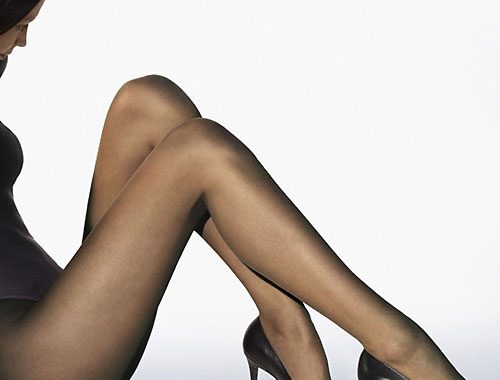 20 January 2015