Shout It From The Rooftops!
1 October 2010
If you've been subscribed to my blog for long, you'll know I'm in the habit of raving about how wonderful our designs are.
Part of this is because The-Powers-That-Be always seem to order the real jaw-dropping ones. Every new fashion tights image that comes our way is, always, very carefully considered.
But there's always an exception to the rule.
Miss Oroblu, the latest brand to fall for our charms, delivered their stock this week. We saw their designs in Paris first, and again at our offices, but I could tell the first time around that we wouldn't need much convincing!
It was obvious this was going to be the next big brand in the fashion world, each design is stronger than the last.
Miss Oroblu's fashion tights are aimed at the younger leg wear market, so you can guess the kind of themes they've chosen will be cutting edge.
A big feature of the collection, and a big feature of 2010/2011 as a whole, is the use of Pop Art.
Celebrity Tights, a Warhol-esque design, shows the great promise. An array of glamourous faces and classic monochrome. I chose to review this item first, not just because it's a very creative pattern, but because it's currently the background for our YouTube channel! Only the best to represent UK Tights!
Keeping with the Hollywood/Popular culture references, Miss Oroblu Movies fits into the collection very well. The fashion tights don't feature any Hollywood related design, but the whole colour arrangement gives a vibrant, varied and "Leading Lady" feel to your outfits.
Pop Knee Highs are the real stand-out design this year. I've seen, and written about, a great deal of great pop art designs this season, so Miss Oroblu have answered the demand very well.
Pop Art has always stood by the method of imitation. Follow what's already popular. It isn't concerned with making things that are excessively weird or original. What is does do well, is make designs shout out loud. You've got to respect Miss Oroblu for this, they've worked with the soul of Pop Art in mind, and their designs are the best looking ones around.
But while this kind of art trend doesn't make anything new, Miss Oroblu does. They've release something new, fresh and revolutionary!
Miss Oroblu Revolution is a design I've never seen anything similar to before. Revolution features leg lengthening side stripes, always something I'd recommend for attracting compliments. The whole length of the leg is crammed with slim horizontal stripes. The effect, a can't-help-but-notice pair of legs! These tights are dazzling and bold, and only to worn with that kind of outfit. It seems Miss Oroblu was founded with breaking new ground in mind
But if you liked Oroblu, and you're thinking this brand of fashion tights might be a little too different for your liking, never fear! Miss Oroblu has also kept with tradition this season. Their Rainbow Tights are an updated version of Oroblu's All Colours, one of our most popular coloured items. The difference is, Rainbow comes in much more vibrant shades and is best suited for stealing all of the undivided attention of a room!
Miss Oroblu has also released a fashion tights design that is their self-proclaimed imaginative design. Creative Tights are named perfectly. These tights are the least convention floral you'll ever see. In fact, it's a little unfair to call them "floral", it just doesn't show them for what they are. But their image does! Take a look up close to see exactly what I mean. A word on their effects, the powdery blue is a flattering tone for leg wear, and the greens and pinks are ideal for livening the whole design up.
Miss Oroblu Easy. Not just a pair of fashion tights. A pair of fashion tights with an attached skirt. Skeggings! Now you may have seen skeggings before, but nothing as well made as these. The quality of this design means rearranging your skirt and panty maintenance (that's unbunching to you and me) is a thing of the past! God bless the Italians, first the aqueduct, now this! And besides, the skirt is ultra-fashionable, in a grunge-check pattern and pink or blue. Awesome!
The last item is a very special piece. Miss Oroblu Pretty is an over the knee sock, with a twist… or a fold, so to speak. This crown jewel of Autumn/Winter 2010 has a turned-down black leather cuff! This cuff folds down to cover your knee, much like the cuffs on a gentlemen's dress shirt. Perfect, really, as these are perfect for formal occasions, chic and casual enough for partying.
Now you can see why I rave about new products! I can't say I've ever been this enthusiastic about a new brand before, and if this season was groundbreaking, I can't wait to see how they'll out-do themselves next season!
If you think these women's tights are rave-worthy, or if you think I haven't quite raved enough about something, let me know in the comments. I'd love to here your feedback and if you sign up for free, you'll receive this kind of manic review on a (fairly) regular basis! Thank you for reading and have a good weekend!
You May Also Like
2 August 2009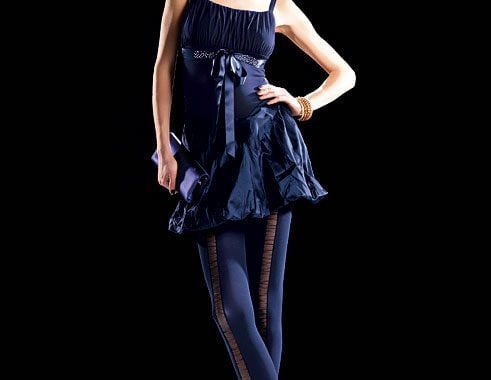 13 January 2012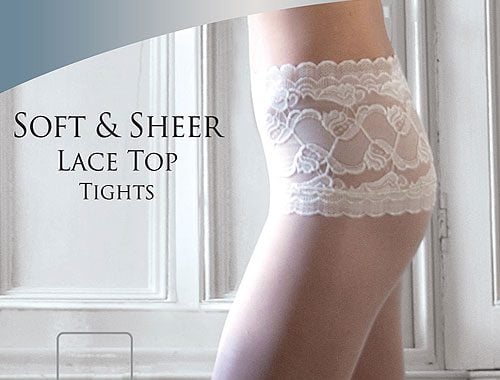 3 May 2013