The Top 10 Tights Trends For 2020 You Need In Your Life
8 November 2019
Autumn Winter 2019 is THE SEASON for wearing fashion tights. Sorry, stockings fans, tights rule at the moment. There's so much choice at UK Tights! Don't be overwhelmed by the offer, though. Here's your chance to know what are the top tights trends for 2020. Get your card ready, because you are going to want them all.
Lurex tights are perfect in 2020 no matter the occasion
In the photo, Pierre Mantoux Vertigo Lurex Tights, a best-selling style of Pierre Mantoux, now back to stock
Lurex tights have always been the No. 1 legwear style to match with your partywear and, because of this, very popular around Christmas. However, sparkles are huge right now. Some of the fashion stylists we work with have shared a little secret with us: lurex tights will be everywhere in 2020, paired with denim, leather, tulles, thick knits, etc. We couldn't be happier about this. Lurex tights make your legs stand out like no other style.
Fashion tights in 2020 are all about the '70s… or are they?
The last two seasons have sought inspiration in the amazing '70s print. Do you remember we talked about it here as soon as we spotted it in the catwalks? The floral and geometric prints of the '70s fashion are still strong, but we can clearly see some 1980s influence. After all, who hasn't noticed that the black sheer tights and the coloured sheer tights are huge this season? Let's start with the 1970s inspired tights.
You need some florals patterned tights
Both floral patterned tights and floral lace tights are the very top trend of the moment in the tights world. We've seen them in a large number of fashion catwalks, even in the Couture shows. Cecilia de Rafael, Trasparenze and Oroblu have some amazing floral prints and patterns you should definitely take a look.
If you die for a true '70s look, check out the exotic Oroblu History 1979 Cachemire Print Tights. They have some strong vintage vibes!
And, of course, some geometric prints
We cannot talk of the 1970s without talking about the gorgeous geometric patterns of this age. Diamonds, stripes and wavy motifs are very flattering and can make your legs look longer. These kind of fashion tights are ideal to upgrade a boring look and are suitable for all age groups, so, if you are over your 50s and you feel like some patterns aren't just for you, you should invest in some new geometric printed tights. Trust us!
The '70s plaids, a classic style
Tartan tights aren't exclusive for Burns Night. Plaids are one of those vintage prints that come and go. After the '70s, they were a hit back in the '90s. Now they've walked their way into fashion and we'll see plenty of plaid tights and checked tights in 2020.
There's only one rule when you wear tartan tights: don't overdo it. Wear them with plain outfits (not plain in the sense of boring, but plain like leather, denim, suede and one-tone outfits, like an all-black look).
Back to the '80s: It's time for the animal prints
Not to repeat ourselves, but animal prints are having their moment. We are totally loving the look. Since our post about the top animal printed tights of the season, we have received some more interesting styles. It's not only leopard tights that are hot. Zebra, cheetah, snakeskin… you'll see more of these in 2020.
Crazy for the logo tights
Logos are in. We saw them in the fashion catwalks a couple seasons ago. Then, celebrities like Kylie Jenner wore it and they were everywhere in the music festivals. This year, COSMOPOLITAN and METAL magazine went crazy for the CdR logo tights. Oroblu has this elegant version of the logo tights we can't help loving. It's the "O" of Oroblu, reproduced as a mocked-up fishnet with rings. Ideal for the 2020's winter.
Hotter than ever:
These two following hosiery styles have never been out of fashion, really. However, we cannot keep them on the shelves these days and, looking at the higher and higher demand, it looks like we'll see plenty of these fashion tights in 2020 as well.
Ribbed tights for Autumn-Winter
A classic of every winter, knits are especially trendy at the moment. You can expect a lot more of cosy ribbed tights in 2020. Black and beige were the to-go colours for knit tights in the past, but these days you can also go for grey, brown, navy and more. Great combined with a warm cuppa for toasty legs and toes.
Black Polka dot tights are the new must-have hosiery style
Katie Holmes, Miley Cyrus and Demi Moore are some of the latest celebrities spotted in black polka dot tights. Just like in 2019, sheer polka dot tights are one of the top tights trends for 2020. We don't know about you, but we can't have enough of this leg style. A good pair of black polka dot tights can look good with any outfit, from dresses, skirts… even paired with shorts.
Two new tights trends for 2020 you can wear right now
Jewel-tone tights
What are the top colour trends for 2020? We'll tell you everything in another post very soon. We promise! To whet your appetite for what is to come, we are going to share a secret with you. Loads of fashion stylists are asking for jewel-tone tones: sapphire, emerald, ruby, amethyst and topaz.
We happen to have them all in stock. From the best coloured opaque tights to some of our best-selling coloured sheer tights, so we have it all covered.
Recycled tights
Something is changing in the hosiery world. Hosiery manufacturers are going greener. Charnos is the last company to join the trend of the tights made of recycled yarns. Pamela Mann, Gipsy, Wolford and Pierre Mantoux are have joined the movement. We love to see our hosiery brands going greener.
Now it's your turn to tell us what of these 2020 tights trends are you already wearing. We'd love to hear from you. Which of these you are going for next?
You May Also Like
21 January 2011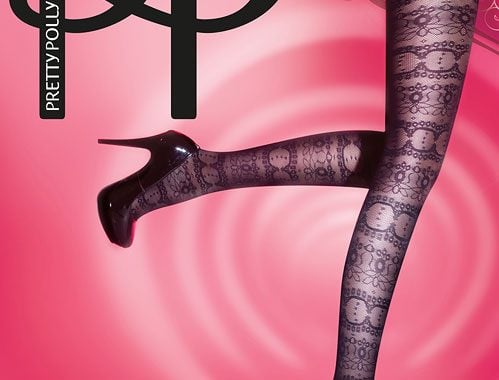 8 August 2011