Henry Holland Tights at London Fashion Week 2013
12 September 2013
Tomorrow is the first day of the London Fashion Week. This is easily one of the biggest events in the clothing industry and it's the time for defining what our wardrobes might look like for the next few months. So what's going to be shown? The first designer scheduled for his catwalk show is Bora Aksu, the Turkish-born designer famed for his incredible cocktail dresses.
Big names like Paul Smith, Tom Ford and Vivienne Westwood will all be represented there, bringing us the beautiful colours, patterns and pieces of art that will help inspire our own wardrobes. Below are a few pieces from Mr. Ford's collection last year. If this beautiful line up is anything to go by, the next few days should be some of the most exciting this year.
Two of the names billed to appear on Saturday are folks we've worked with ourselves. Henry Holland and Mark Fast, designers for Pretty Polly and Jonathan Aston respectively, show their collections in the evening and based on what they've produced before, it's going to be something very special.
Jonathan Aston has been working with Mr Fast
Above is Mr Fast, a genius designer that's been working with Jonathan Aston recently to produce a few of the most creative and refreshing items of legwear we've seen in a long time. His signature is his love of crocheted fabric, which gives his clothes a beautiful, warm and familiar appearance. He is also famous for making sure to include plus size garments on models in his catwalk shows, promoting the much-needed change in perception of models from dangerously thin to healthy and happy. Just another reason we love this man and the work he does.
There's so much to love and to see over the next few days, and we'll be here to give you the best parts of the legwear they put on display. So, if you want to keep up with London Fashion Week, click here and subscribe for free and get the best of the shows right to your inbox.
In the meantime, why not enjoy some fashion tights of your own? Use the code FASHION on anything in our fashion tights section at UK Tights and get 10% off your order. Enjoy!
You May Also Like
6 August 2020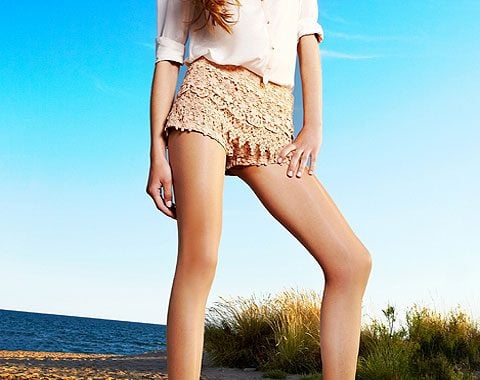 21 June 2013
20 January 2021