How to Style Black Bodysuits to Work
9 November 2018
Everyone is talking about the perks of wearing bodysuits these days, but what nobody tells you is that wearing a bodysuit for the first time may seem as walking out of your comfort zone. We all can think of great party looks wearing a black bodysuit. That's quite easy, right? We can always get inspiration from celebrities and fashion magazines. Some celebrities are experts bodysuit stylists!
When you invest in a good black bodysuit, you want to wear it all the time. So, how exactly do you style black bodysuits? How do you wear bodysuits to work?
Wolford Bodysuits should be your first choice
The best black bodysuits to work are made by Wolford. If you can afford them, don't think it twice. The Wolford bodies adapt to your body shape. They are absolutely versatile, as they match like perfection any outfits you can imagine.
From elegant looks (some celebrities have been spotted wearing Wolford bodywear at the Oscars, for instance!), to the kind of smart looks you may take to work. If you try Wolford, you won't help yourself. You'll have to style your black bodysuits with jeans and, let us tell you, they look Oh-So-Amazing!
We believe all Wolford bodysuits are easy to style to work, but we have some winning options.
And our favourite Wolford bodysuit is…
First and foremost, our No. one bodysuit is the Wolford Pure String Bodysuit in the picture above. If you want to try to wear bodysuits to work all year round, this is the best option, because of the three-quarter sleeves.
For those who can't bear the cold and those who love wearing the latest trends, the best option is the Wolford Colorado String Bodysuit. A good customer has told us her secret for looking ideal in winter. She has two pairs of the Wolford Colorado bodies, one in white, one in black, that she matches with practically skirt and trousers she has. They look great under dresses in winter and under suits, too. Plus the tube neckline is one of the top trends this season, too.
For those who like wearing a sleeveless layer under thicker clothes, the Wolford Jamaika String Bodysuit is your best choice and a celebrities' must-have.
Get the look for less:
The new Charnos Second Skin Long Sleeve Bodysuit is a super affordable alternative to the Wolford Pure String Body, although this Charnos bodysuit is long-sleeved.
Pierre Mantoux's Black Lace Bodysuits
This lace and mesh black bodysuit is totally different from the previous styles. Where before we had some minimal-inspired bodysuits, we have a lovely combination of floral lace and fine mesh. Still, it's quite a minimal look, right? That's the kind of look you should go after when looking for black bodysuits to work. Something you can combine with different styles to create the perfect look. Pierre Mantoux always creates unique pieces of design and the Pierre Mantoux Megan bodysuit in the picture is no exception.
Are lace bodysuits OK for a smart work look?
Lace bodysuits used to be a no-go for work, as they were considered a lingerie item. However, the popularity of silk, satin fabrics, fine mesh tops and, of course, lace these days has changed this. Nowadays, it's totally acceptable to wear a lace bodysuit to work, as soon as you make sure it's not too provocative (you know how strict are dress codes in some companies…).
A black lace bodysuit can upgrade your boring black suit. Plus, you can remove your blazer and go out for a few drinks without having to get changed!
Get the look for less:
The Janira Greta Long Sleeve Bodysuit is a simplified version of the Megan bodysuit. The lace details are simplified, but you are also saving up £40 so it may be worth if you are on a budget.
Can I wear a shaping bodysuit on its own?
Wearing a shaping bodysuit as outwear may not be the most suitable choice for work, as the support around the belly area may feel uncomfortable if you have an office job and you, for instance, have to remain sitting for a long period of time. If you go for black shaping bodywear, make sure you go for the right size. Don't try to size down.
A great alternative to reduce discomfort is the Spanx shaping bodysuit in the picture above. The Spanx Spotlight On Lace range smooths the waist and hips area thanks to a graduated support tulle and has lovely lace details. Being see-through, we wouldn't wear it on its own, but these kind of lace and mesh bodysuits are just perfect to wear under a smart shirt or blouse.
What's your favourite black bodysuit? Are you going to wear black bodysuits to work from now on?
You May Also Like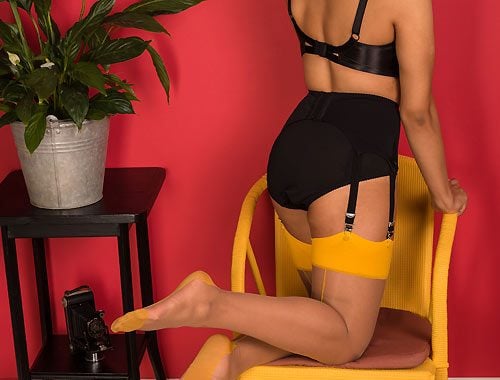 23 May 2019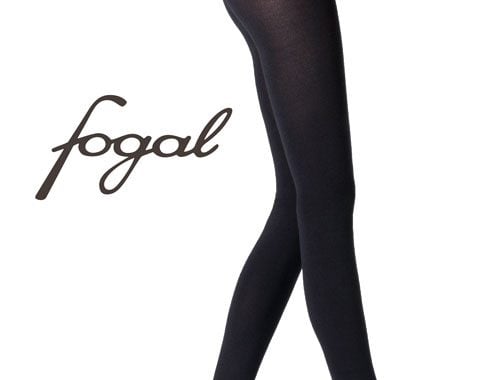 26 July 2013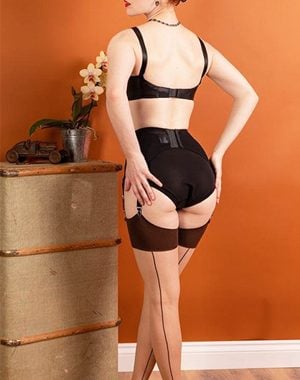 14 October 2020