UK Tights Christmas Wish List Essentials
19 November 2015
With Black Friday just round the corner and Winter calling to our door, it's time to choose your Christmas list. These tights and socks are included in UK Tights' wish list to Santa this year:
UK Tights Christmas Wish List 
1. Pretty Polly Pretty Rudolph Tights – £7.99 
Pretty Polly have designed a complete collection of festive Christmas tights this season, including cute Rudolph, Santa, a snowman and Christmas decorations.
2. Pretty Polly Christmas Tree Cotton Ankle Socks – £3.99
Don't check out the new Pretty Polly Christmas collection! You'll want to get all their absolutely gorgeous Christmas socks!
3. Oroblu Nikki Natural Fibres Tights – £24.99 
Many customers ask for natural fibres. If you want to wear the cosiest cotton and wool tights, check out the new Oroblu Naturals range.
4. Pretty Polly Snowflake Tights – £5.99 
Never say no to sparkle prints at Christmas!
5. Charnos Cosy Fleece Socks – £5.99 
Cold toes? What is that? You definitely need at least one pair of these Charnos cosy socks, now available in more colours.
6. Charnos Chevron Shine Tights – £9.99
70's style is so trendy this season, remember? Why not going for a highly sophisticated chevron lurex print?
7. Wolford Velvet de Luxe 66 Tights – £24.99
These Wolford opaque tights are perfect to finish a smart outfit. We have just receive them in the new colours for AW15.
8. Girardi Ciel de Paris Tights – £25.99
Dotty tights are so popular this season! These Girardi tights have a lovely lurex touch, which makes them ideal for party time!
9. Trasparenze Diamond Leggings – £44.99
Wear these Trasparenze leggings with lovely heels and a nice top for the ultimate party leg. Comfy to wear and yet absolutely stunning!
10. Wolford Satin Touch 20 Tights 3×2 Promotion – £50.99 £33.99
Christmas is time to meeting up with friends and family, meaning you'll have many chances to wear lovely hosiery. Getting yourself this saving pack is a very good idea to save time… and money!
What is your wish list for Christmas? Do you like UK Tights Christmas list? 
You May Also Like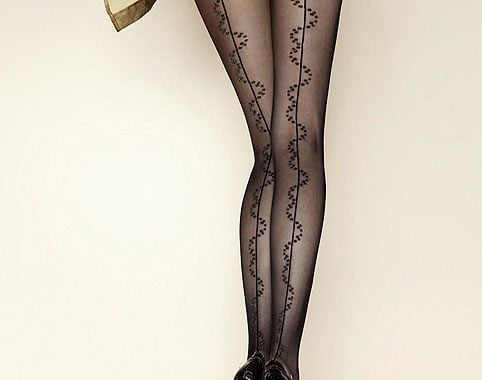 23 January 2012