All About Dawn
Hi, I'm Dawn Barber and I'm the Managing Director of UK Tights, UK Swimwear and UK Lingerie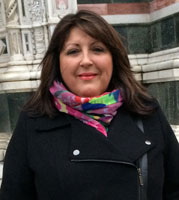 Dawn Barber
It's difficult trying to write about yourself but here goes. I'm 59 years old and I have four wonderful children and a great husband.
Like many people I have likes and dislikes but one of the things I truly love is my job. I get to choose all the
tights, hold ups and stockings
that we sell. Given that I adore nice hosiery I think I get paid for my hobby, I get to travel all over Europe when I'm in search of the latest fashion in legwear and I enjoy meeting up with our manufacturers enormously.
On a more personal level, I enjoy spending my weekend with my family and cooking and baking. I make a mean rhubarb crumble, Jonathan's favourite. Like most people I catch up on cleaning the house and washing and ironing. Not my most favourite pass time but never mind, all part of life's rich tapestry!
I like watching the odd film here and there. I enjoy films like Lord of the Rings and Salt. I'm a fan of psychological thrillers so most evenings before I hit the hay, I read a few chapters on my kindle. I also enjoy socialising with my friends and love the odd glass of gin and tonic. My favourite is Forrest Gin with Fever Tree tonic. I also adore champagne. My favourite being Bollinger.
We have a few pets at our house too. There is Gus the Dalmatian dog who never leaves you alone. He's a gorgeous dog but you just can't wear him out I'm afraid. We also have Lucy. She's our daughters' dog until it comes time to get up and let her out! She's a cute little Chorkey, half Yorkshire Terrier and half Chihuahua.
Then there is the free cat! Yes, there's Rosie. Some kind soul had dumped Rosie in the car park at the Trafford Centre when she was 5 months old. I guess they got the estimate for having her chipped and spayed. We found her when we took the kids to see the film Last Airbender. She then became our cat. The following week when the vet confirmed she had been abandoned we adopted her. £183.00 later she became our free cat!
Well I hope you enjoyed this little insight into who I am and what I enjoy doing. I'd like to take this opportunity to thank you for visiting the site.
I hope you enjoy your shopping experience with us, and should you choose to shop with us then I'd like to thank you personally for your business. If I can be of any assistance, please don't hesitate to contact me.