All About Owen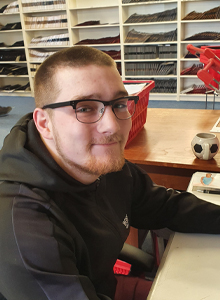 Owen
Hi, my name is Owen Allen, I'm 19 and I'm a member of the warehouse team, which means I have a hand in almost every order that we receive, whether that's picking or dispatching items.
I am a huge fan of Japanese anime and manga, some of my favourites being quite generic, such as Naruto and Bleach. One day I hope to travel around Japan, learning the culture and the language, but also seeing the sights and learning the history behind the traditional architecture. The feudal era of Japanese history is one of the more interesting times to me.
Whilst in school I studied photography, which is another thing that interests me, it was one of the GCSE's that I was better at and I really enjoyed it. I enjoy playing video games and chatting online with my friends, which has been especially nice during the trying times of 2020 and 2021 when I haven't been able to see them in person.
I also play the guitar a little bit, I've played since I got involved with a youth group at 10 years old, once I got a little bit older, I also began volunteering at that same youth club. I did that for 2 years whilst I completed my bronze Duke of Edinburgh award, I also received a community contribution award from the Macclesfield Rotary Club for my work with the club.
That's all there really is to know about me, I'm a simple man who lives a simple life, thank you for taking the time to read.
-Owen Allen